Argentina's economy "technically in recession" seems to have bottomed out
Saturday, December 19th 2009 - 12:13 UTC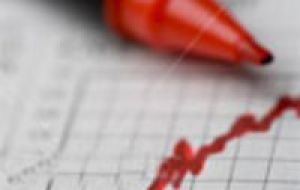 Argentina's economy shrank for a second straight quarter from July to September, but industrial output jumped in November as auto production surged, indicating a turn in the economy, data showed on Friday.
Third-quarter GDP fell 0.3% compared with the same period a year ago and was unchanged from the previous quarter, the INDEC national statistics agency said.
Local media and some economists said the country had fallen into a recession. The issue has become highly controversial since Argentine official data is widely questioned and most private experts have been forecasting a contraction in 2009, even when the government says the economy will grow slightly.
However industrial production rose 4% in November from the same month last year.
Automobile production jumped 32.4% and tire production leaped 12.9% in November, with the sector boosted by an economic recovery in Brazil, Argentina's biggest trade partner and a major buyer of Argentine vehicles.
In the second quarter, the Argentine economy shrank for the first time in eight years as the global slowdown sapped demand for the country's commodity exports and curtailed domestic spending. In the third quarter, the goods-producing sector fell 3.6%, while the services sector rose 1.6% year-on-year.
Argentina's statistics agency Indec has been widely questioned for more than two years as private economists accuse the government of overstating growth and underreporting inflation for political gain.
Some figures in recent months have been believed closer to private analysts' estimates.
Economic growth in the first nine months of the year totalled 0.2%, but many analysts say the economy shrank during that period and will finish the year with negative growth.
The government forecasts an expansion of 0.5% in 2009 and 2.5% in 2010. In the first 11 months of the year industrial production is down 0.6% from the same period of 2008.