Tribunal admits only 49% of registered Hondurans voted on November 29th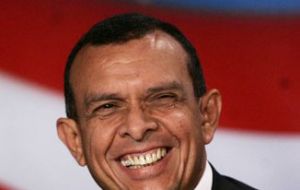 Over half of Honduras registered voters in Honduras did not participate in the controversial presidential election last November 29th, held under the de facto regime, according to figures released by the country's Supreme Electoral Tribunal.
The total number of voters at the presidential election was 2.300.056 out of a registry of 4.611.211 which is equivalent to 49%. No abstention percentages or numbers were released by the Tribunal.
The latest information contrasts openly with the 62% participation announced by the Electoral Tribunal following the November Sunday ballot, which was not recognized by most of the international community expect for the US, Costa Rica, Peru, Panama and Colombia while Chile is in the process of assessing the event.
In the previous election four years earlier, when deposed president Manuel Zelaya was elected, 54% of Honduras registered effectively did turn out. Zelaya who was ousted by
a coup June 28th and flown to neighbouring Costa Rica by the military, called on fellow Hondurans to abstain from voting since the election was illegitimate, since it was organized and monitored under the de facto regime of Roberto Micheletti.
The Electoral Tribunal also confirmed that Porfirio Lobo from the conservative National party obtained 56% of valid votes, compared to 38% from the incumbent Elvin Santos from the Liberals, the same party to which Zelaya and Micheletti belong. The other three candidates managed less than 2% of the vote.
On Sunday November 29th Hondurans also voted for the 128 members of the one chamber congress as well as 20 representatives for the Central American parliament seated in Guatemala.
President elect Lobo is scheduled to be inaugurated January 27th, the same day Zelaya's four year constitutional term comes to an end.
The incoming president has requested the resignation of de facto ruler Micheletti so that the new administration can be recognized by the international community and the flow of financial aid, frozen since the coup, can resume.
Honduras, together with Haiti and Nicaragua, is one of the poorest countries of Latinamerica.