The day a young rookie doctor saved the life of super star Maradona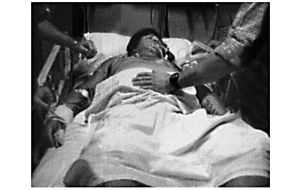 The Uruguayan doctor who ten years ago played a crucial role in saving the life of Argentine football star Diego Maradona, collapsed under the effects of an overdose of cocaine, revealed details of the emergency evacuation of that day, a day he will never forget.
In an interview with Montevideo's daily El Pais, Dr. Jorge Romero, (38) at the time a young internist fresh from Medicine school and working at the summer resort clinic of Jose Ignacio, 35 kilometres east of Punta del Este was informed of a strange phone call.
It was midday 4 January 2000 when a nurse came running to tell him: "Doctor, doctor Maradona is looking really bad and his friends want to come for a blood pressure instrument".
Out of curiosity and professional responsibility the young doctor preferred to drive to the farm belonging to an Argentine businessman and where Maradona was staying with close friends and his personal manager Guillermo Cóppola.
"What I saw was not Maradona: it was a dying man. He was in comma collapsed on a sofa. By the time I arrived and took him to the hospital 40 minutes elapsed: For me it was a whole century", confesses Romero.
"My first reaction to myself was that if Maradona's heart fails in these conditions it was also the end of my medical career".
Maradona's manager Cóppola insisted in downplaying the gravity of the situation and minimizing the cocaine consumption, which nevertheless was fully confirmed in clinical blood tests at the hospital.
"But the truth is, it was really Cóppola who saved him".
"After checking Maradona, his condition and heart beat I warned Cóppola he would die if he didn't receive immediate attention from an intensive-care doctor" but the reply was not what the young Romero was expecting.
"The reply was a thunderbolt NO" and Cóppola explained why, "the Argentine press is sanguine and vicious, therefore Maradona lives or dies with YOU".
Romero admits "I froze, I thought of making him sign a responsibility document and running away from the farm, but we decided to take him to the hospital immediately".
"That was the crucial decision that saved Maradona's life because when we reached hospital he was in a critical condition with serious death risk. No emergency unit would have reached Jose Ignacio on time to save Maradona", revealed Romero.
Romero said that during the trip he practiced on the Argentine national team coach "several different exercises so that he could keep breathing. It was particularly difficult since at the time Maradona was excessively overweight".
But that was not the end of the story: on the way Cóppola stopped at a gasoline station to fill the tank, 75 litres and almost 15 minutes.
"I was desperate, Maradona was in comma, could hardly breath, I wanted to kill Cóppola" recalls Romero.
The rookie doctor is quite changed now: about to be a father next March he is head of a fully equipped clinic in a modern building at Jose Ignacio. But he still remembers that nerve racking 4th of January. He never again saw the two main characters of the cocaine party: Maradona and Cóppola.
Maradona was later flown from Punta del Este to Buenos Aires on an ambulance and begun a recovery period of his life, cutting all contacts with Cóppola.
Punta del Este, 120 kilometres to the east of Montevideo is the leading sea resort along the Atlantic coast of South America where every summer converge the rich and famous from Argentina and Brazil.
Fashionable Jose Ignacio further east, a one time fishermen's village is more rustic and recalls the Punta del Este of six decades ago.