Venezuela's Mercosur incorporation will help "dilute Brazilian hegemony"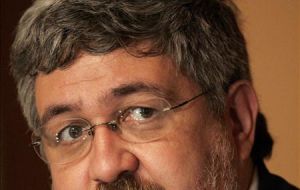 The incorporation of Venezuela to Mercosur will help dilute the Brazil-Argentina hegemony and will be beneficial for small countries said Paraguay's Foreign Affairs minister Héctor Lacognata on Wednesday chatting with foreign correspondents.
The Paraguayan Senate is the last hurdle for Venezuela's full incorporation to Mercosur, following the recent approval by the Brazilian Senate where the request had been foundered for a couple of years.
"Mercosur needs more full-member countries. Mercosur with four full members in its current format with a strong Brazilian hegemony does not benefit small country members. The incorporation of new members such as Venezuela, Mexico, Chile, Bolivia and others will necessarily force a review", said Lacognata.
He added that his proposal is not new: "I was a sponsor of an enlarged Mercosur when I was a member of the Mercosur parliament".
Small countries will then be able to form new alliances if Mercosur effectively is enlarged, underlined Lacognata.
Venezuela's Mercosur incorporation begun in 2006 and received immediate support from the Argentina and Uruguayan legislatives but is was stalled in the Brazilian Senate following a strong exchange between its members and Venezuelan leader Hugo Chavez.
However three years later and following strong lobbying from President Lula da Silva and the Brazilian business community, and even support from the Venezuelan opposition, the Brazilian Senate finally approved the incorporation.
The argument was not only the billions of US dollars in contracts for Brazilian corporations but also that is was better for Venezuelan democracy to have "Chavez inside than outside the block with whoever knows what allies".
The administration of Paraguayan president Fernando Lugo attempted to have the issue voted last August but was forced to withdraw when he was warned of insufficient votes.
Lacognata said that "we are now facing a completely different scenario particularly following the Brazilian Senate vote, so we are hopeful that next March the Paraguayan Upper house will discuss and give a quick approval to Venezuela's incorporation to Mercosur".