Air Tahiti confirms MOD contract for Falklands' airbridge
Wednesday, January 6th 2010 - 13:04 UTC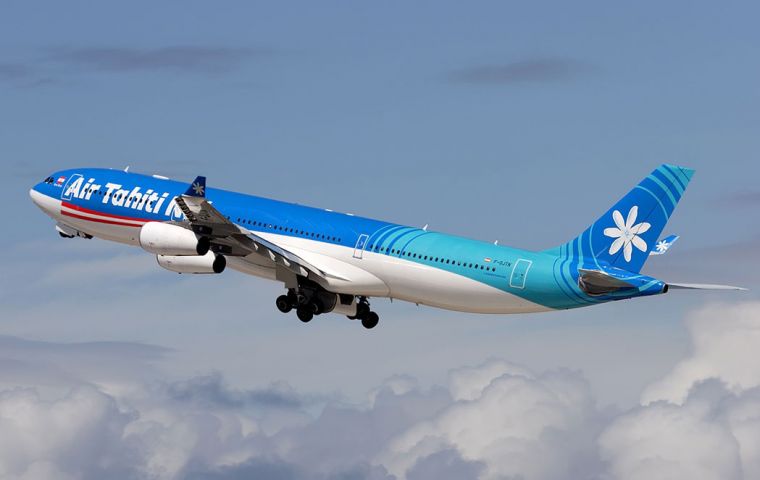 French Polynesia's flag carrier has signed a deal with the British Defense Ministry to fly military personnel from England to the Falkland Islands in the South Atlantic, according to Radio New Zealand International.
The head of Air Tahiti Nui, Christian Vernaudon, said Wednesday one of its Airbus planes with its crew has been leased to fly the military personnel this month. He told local radio in Tahiti that this type of activity is possible because the airline has five Airbus planes at its disposal.
Vernaudon said contracts of this type have already been signed worth almost 10 million US dollars.
In London a military spokesperson said that the MOD contractor is meeting its contractual commitment in providing the South Atlantic Airbridge service following the collapse of FlyGlobespan and it is hoped that a permanent arrangement will be in place soon.
The present interim arrangements are: Air Tahiti Nui is contracted for the flights between the UK to Falkland Islands on 6th, 10th and 13th of January and Titan will undertake the task on the 17th January.
The spokesperson says that competition to provide the flights between the 20th January and the end of February is ongoing at present.
Air Tahiti Nui has headquarters in Papeete and operates from Faa'a International Airport on the island of Tahiti. The company was founded in 1996 and commenced flight operations in 1998. The Government of French Polynesia is the major shareholder in the airline along with Tahitian private investors.
Air Tahiti Nui is certified under the French Civil Aviation Authority and is designated by the IATA code "TN", numeric code "244", and the ICAO three-letter code "THT".
Air Tahiti Nui exclusively operates one of the youngest fleets of Airbus A340-300 aircraft in the world. These new generation aircraft, which seat 294 passengers, feature the quietest cabin in the sky while offering state-of-the-art technology and innovation.