Chilean maverick candidate will vote to impede Piñera becoming president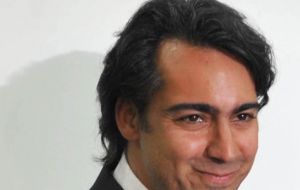 With only four days left for the Chilean presidential election run-off next Sunday the former independent hopeful Marco Enriquez-Ominami, MEO, publicly announced his support for incumbent candidate Eduardo Frei, although not mentioning his name once.
"With the right, which is basically the support for the candidacy of Sebastián Piñera: an irreconcilable abyss separates us", said MEO on Wednesday midday during a speech at the former Chilean National Congress, thus breaking the nerve-racking uncertainty which floated ahead of Sunday's crucial vote.
"Given the historic moments we are going through and the uncertainty that right wing parties might impede the march of Chile towards the future, it is my responsibility to contribute in every way possible for this not to happen. Therefore I formally declare my decision to support the candidate of the people, of the 29% who voted for him on December 13th", added member of Congress MEO.
His statement was long awaited by the Frei team although the former maverick presidential candidate underlined the support was "personal" and therefore "the 20% of Chileans who supported me in December are free to do whatever they wish".
"Your freedom of action is not in doubt when I exercise mine. You are the only judges of your conscience and vote…and I respect, with no exclusion of any sort your decision", said the lawmaker standing next to his wife and his former electoral campaign chief.
But in spite of announcing he would support the ruling coalition candidate with his ballot on Sunday, the former member of the Socialist party anticipated that his political grouping "will remain independent of the next administration no matter who wins Sunday".
"We have not negotiated at all and I will not negotiate anything. I want nothing for me. You won't see me enjoying any government post with the next administration" insisted MEO who nevertheless pointed out he would be leading "a constructive opposition, with proposals, firm, rigorous, combatant, always thinking in what is best for Chile".
MEO ended his speech emphasizing his opposition role, recalling that both Piñera and Frei "are too much involved and participants of the obscure past of Chile".