Paraguay thanks Colombia for help in the release of a kidnapped rancher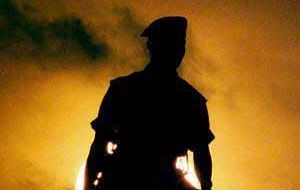 The Paraguayan government and the family of a liberated cattle rancher, kidnap victim of an armed group, have thanked Colombia because the aid and intelligence provided for the liberation were "decisive", announced Colombian President Alvaro Uribe in Bogotá.
In an interview with a Bogota radio, president Uribe said that Colombian Foreign Affairs minister Jaime Bermúdez had transmitted him Paraguay's gratitude for collaborating in the liberation of rancher Fidel Zavala who remained in captivity 94 days.
"The government of president (Fernando) Lugo from Paraguay, his Minister of Interior Rafael Filizzola and the family of the kidnap victim are profoundly grateful to the government, the people and the Colombian police", revealed Uribe.
He added that the message also underlined that "the Colombian participation in the liberation of the kidnap victim was decisive".
Meanwhile President Lugo announced Monday that the Paraguayan Armed Forces would be joining the search operations for an extreme left armed group which over the weekend released their prisoner who remained 94 days in captivity.
The self proclaimed Paraguayan Popular Army (EPP) claims the kidnapping of rancher Zavala and according to Asunción press reports they were paid 550.000 USD for his release although apparently the original asking price was 5 million US dollars.
The rancher was released on Sunday afternoon in the middle of the Paraguayan Chaco and had to walk during five hours, swim across a river and finally reached a place close to his farmland from where he contacted his staff with a radio communication given to him by the kidnappers.
The EPP which according to Paraguayan intelligence sources has received training from Colombian Marxist rebels, FARC (Revolutionary Armed Forces of Colombia) is a branch that broke off from the left wing Free Motherland party, PPL (with no congressional representation), and was involved in the kidnapping and death in 2005 of Cecilia Cubas, the daughter of a former Paraguayan president (1998/1999).-
Press reports from Asuncion also reported that what seem to be a group of twelve members of the EPP have been sighted in the jungle marching close to a main river with their camouflaged uniforms and guns. The group includes two women.
"We're tracking them by land, with several patrols and we also have aerial survey, so we should have news soon. Anyhow they are in the fringes of dense jungle where it is easy to hide", admitted Carlos Altenburger head of Anti Terrorist Research.