Indian commander celebrates 60th Republic Day in the Falklands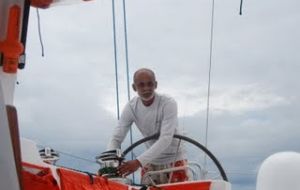 Commander Dilip Donde, the first Indian attempting a solo circumnavigation voyage of the earth, will celebrate on Tuesday India's 60th Republic Day by unfurling the national flag on his yacht, INSV Mhadei, docked at Port Stanley in the Falklands Islands, nearly 13,000 km from his homeland, according to reports in the Mumbai press
A Commander of the Indian Navy, Donde is at Port Stanley for the repair work of his 56-foot yacht and will depart February 1 on the fourth leg of the voyage to Cape Town, South Africa.
Starting his circumnavigation across the globe from Mumbai Aug 19, 2009, 42-year-old Donde has sailed over 14,000 nautical miles so far.
During the nine-month long voyage, INSV Mhadei will cover over 21,600 nautical miles (nearly 39,000 km), passing through exceptional winds and swells which are prevalent, especially below 60 degrees South Latitude, called the Roaring 40s, Fearsome 50s and Screaming 60s.
It is scheduled to halt at only four ports: Fremantle (Australia), Christchurch (New Zealand), Port Stanley (Falkland Islands) and Cape Town (South Africa) before returning to Mumbai.
The requisites for a circumnavigation voyage are - it should start and end in the same port - in this case, Mumbai, crossing all the Meridians (Longitudes) at least once and the Equator at least twice.
The distance covered during the voyage should be more than the length of a Meridian which is over 21,600 miles (nearly 39,000 km).
The vessel cannot cross any canals, straits which use engines or towing and the boat must round the three Great Capes - Cape Leeuwin (Australia), Cape Horn (South America) and Cape of Good Hope (South Africa).
The Republic Day of India is one of the three national holidays of the country, marking the anniversary of the adoption of the Constitution of India and the transition of India from a British Dominion to a republic on January 26, 1950.
Although India obtained its independence on August 15, 1947, it did not yet have a permanent constitution until 1950.