Obama promises jobs and admits a "deficit of trust" by the US people
Friday, January 29th 2010 - 01:52 UTC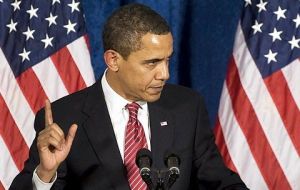 US president Barack Obama promised to make job creation his top priority as he made his first State of the Union address. Obama forecast the creation of 1.5 million jobs through the 'stimulus bill' in the nationally televised speech Wednesday evening to a joint session of Congress.
"People are out of work. They are hurting. They need our help. And I want a jobs bill on my desk without delay," he said. As he looked to reignite his stalling presidency, Obama urged Congress to come together around new stimulus spending and short-term economic relief.
"Change has not come fast enough," he said. "I do not accept second-place for the United States of America."
The president devoted about two-thirds of his speech to the economy, emphasising his ideas for restoring job growth, taming budget deficits and changing a polarised Washington.
Obama also mentioned a "deficit of trust" in government by the American people and called on Congress to erode the influence of special interests and work together to confront the nation's most pressing problems.
The US president called for a new political climate of "common sense" approaches that invest in the American people without building "a mountain of debt".
"We have to recognize that we face more than a deficit of dollars right now. We face a deficit of trust -- deep and corrosive doubts about how Washington works that have been growing for years," Obama said.
A year after the height of the world financial crisis he said "the worst of the storm has passed but the devastation remains".
"Despite our hardships, our union is strong... I will not walk away from these Americans. I have never been more hopeful about America's future than I am tonight".
He said he would still pursue ambitious longer-term changes to healthcare, energy, education and beyond. The healthcare plan was on the verge of being passed but was derailed after opposition Republicans captured a crucial Senate seat last week.
"Do not walk away from reform," he implored. "Not now. Not when we are so close."
In a surprise shift from past addresses, and notable for a president whose candidacy caught fire over his opposition to the Iraq war, foreign policy was taking a relative back seat.
On national security, Obama proclaimed some success, saying that "far more" al Qaeda terrorists were killed under his watch last year than in 2008.
Hoping to salve growing disappointment in a key voter area, he said he would work with Congress "this year" to repeal the ban on gays and lesbians serving openly in the military.
Republicans, however, were skeptical of Obama's ability to change the partisan atmosphere in Washington.
"Real bipartisanship requires more than just lip service; it demands both sides coming together in a real and meaningful way. It's time for the administration to abandon this big-government agenda and start working in a meaningful way with Republicans to find common-sense solutions to move the country forward," said Sen. Orrin Hatch, R-Utah.
"I would have liked to have seen him emphasize reaching out to the other side of the aisle and bringing us together," said Sen. George Voinovich, R-Ohio.
A post-speech opinion poll showed a divided public. The CNN/Opinion Research Corp. survey indicated that 48% of speech watchers had a very positive reaction, with three in 10 saying they had a somewhat positive response and 21% with a negative response.
The 48% who indicated they had a very positive response is down 20 points from the 68% of speech watchers who felt the same way a year ago about the president's February 24 primetime address to a joint session of Congress.
"Wednesday night's State of the Union audience is more Democratic than the nation as a whole, but speech-watchers were less Democratic this year than they were last year," said Keating Holland, CNN polling director.
"That may be one reason why the number who gave his speech a 'very positive' rating is lower this year. But part of the reason also may be that speech-watchers didn't necessarily hear a new agenda and aren't confident that the president can improve health care or lower the deficit."