Argentine government admits official inflation statistics are controversial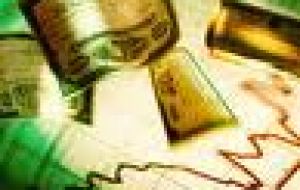 Argentina's government filed amended documents with the U.S. Securities and Exchange Commission related to its economy and upcoming debt swap. Argentina is in the process of reopening a 2005 debt swap in an effort to attract investors holding some 20 billion US dollars of defaulted bonds that weren't included the first time.
The updated filing reflects changes made by the government in the wake of ongoing consultations with the SEC. The SEC had requested more information after the document the Government presented on December.
The new document has four more pages than the original one which was sent to the Commission and features a more detailed description of the risks related to Argentina, including some analysts' objections to the inflation official data.
The government expects to launch the offer sometime in February, and wrap it up in March.
The documents provided more details on the controversy at the government statistics institute, Indec, and information on an ongoing spat over central bank independence, as well as updating economic data through the end of 2009.
Referring to Indec, the document explained that at the end of January 2007, it "experienced a process of institutional reforms that resulted in controversy". The government said Indec had "identified changes that needed to be implemented in order to correct a number of distortions and deficiencies."
Indec had used data from seven provinces but from May 2008 that was reduced to just the Buenos Aires province area because a broader analysis "was resulting in materially inconsistent and unreliable results."
The government made it clear that "Indec does not restate inflation statistics. Accordingly, you should consider this in your evaluation of inflation statistics and evaluation of annual trends."
According to Indec, the consumer price index rose 7.7% in 2009, up from 7.2% in 2008. Private-sector economists believe the actual figures are two or three times higher, which were pointed out in the document.
"Certain private analysts objected to the inflation data (and other economic data affected by inflation data, such as poverty and gross domestic product estimates) published by INDEC," according to the SEC document.
The documents also talked of the "counter-cyclical fiscal policy" implemented in 2009 "in order to mitigate the effects of the shocks of the global financial crisis on the domestic economy."
As a result, the government's primary surplus fell 47%; total revenue increased 16.2% while primary expenditures increased by 24.3%.