Brazil moving closer to accepting Honduran president Lobo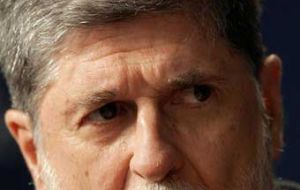 Brazil sees a positive attitude and a good indication of "reconciliation" attempts by the recently inaugurated Honduran president Porfirio Lobo. "The new president acted in a politically positive manner when he negotiated a safe conduct for the deposed president, Manuel Zelaya", said Foreign Affairs minister Celso Amorim.
The decision negotiated through Dominican Republic president Leonel Fernandez gesture enabled Zelaya to leave Honduras after being holed up in the Brazilian embassy for 126 days.
The praise for Lobo seems to indicate a change could be underway in Brazil's position with regard to Honduras. Since the June 2009 coup, Brazil has been unyielding in its position: zero relations with the government that came into being through a coup.
Amorim described Lobo's attitude as reflecting some positive steps but "needed to advance further". Do more in the direction of "reconciliation" so as to put an end to political and social instability in Honduras.
"I see some positive steps on the path to reconciliation. We will wait and see how this evolves," said Amorim.
"The fact that president Lobo went to the Brazilian embassy and escorted Zelaya to the airport was a good indication of reconciliation!" It is of fundamental importance to maintain an air of reconciliation, the minister underlined.
The issue of Honduras is high on the agenda of a Rio Group meeting scheduled for Cancun, Mexico in February, which will bring together presidents and foreign ministers from the region. It is almost certain that the question of the new government's legitimacy will be worked out at that time.
The US government has now normalized its relations with Honduras. On Friday, American ambassador Hugo Llorens met with president Porfirio Lobo Sosa and announced aid would soon be restores. Several regional countries including Panama, Costa Rica, Colombia and even Mexico have shown different degrees of support for president Lobo.