Brazilian congress willing to approve reformed power accord with Paraguay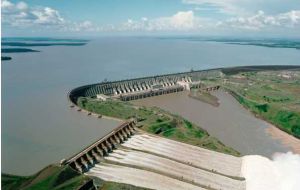 In the Brazilian congress there's a positive attitude towards the consideration and approval of the terms agreed between presidents Lula da Silva and Fernando Lugo to improve price and conditions for the Paraguayan power generated in the Itaipú dam and purchased by Brazil.
Anotnio Patriota, top official from Brazil's Foreign Affairs ministry is currently visiting Paraguay as part of a delegation sent by President Lula da Silva to continue negotiations with Paraguay regarding the energy from the world's largest operational hydroelectric dam, Itaipu, which is shared by the neighbouring countries.
However, landlocked Paraguay only absorbs 5% of total Itaipú and the rest of its 50% share is automatically sold to Brazil at prices dating back to the inception of the major powerhouse in the seventies.
Paraguay demands better prices and conditions for the power but its powerful neighbour recalls that the bill for the Itaipu dam was paid almost exclusively by Brazil.
Anyhow last September during a presidential summit in Asuncion, Lula da Silva and Lugo after much discussion agreed on new conditions which substantially increase Paraguay's money income together with infrastructure projects.
"As in any democracy, there are differences of opinion. But I think there's an open and growing attitude in Congress and in public opinion towards Paraguay and Itaipu's share", said Patriota, one of the closest advisors of Foreign Affairs minister Celso Amorim.
However Patriota did not advance when the Brazilian congress will be meeting to address the issue, which is hard to predict since this is election year in Brazil and a successor must be found for the eight successful years of Lula da Silva.
The Paraguayan congress has already approved the document which will enable the country to collect 360 million US dollars annually instead of the 120 million currently paid for its share of power sold to Latinamerica's largest economy.
The Brazilian delegation has met with cabinet ministers, Congress members and the board of the bi-national Itaipu complex.