Brazilian group planning two huge feedlots to ensure cattle supply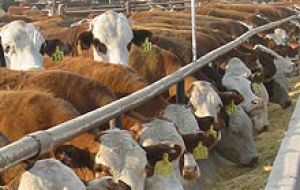 Argentina's meat processing group, Quickfood belonging to the giant Brazilian corporation Marfrig has purchased 150 hectares in the province of Cordoba to establish one of the largest feedlots in the country.
The 20 million US dollars project will have a feeding capacity for 22.000 cattle and is part of the Brazilian corporation's expansion in Argentina with a second feedlot complex planned for the province of Buenos Aires.
"This is good for cattle ranching; the feed lot is scheduled to begin to operate this year and together with the planned feedlot in Buenos Aires is expected to cover 15% of the Argentine annual demand for cattle", according to Miguel Gorelik, Quickfood
Argentina is one of the world's leading exporters of beef but the government has restricted exports to ensure the domestic market supply. Argentines are the top world consumers of beef.
Quickfood's operation comes at a crossroads in cattle farming since an intense drought and better profit opportunities in agriculture had considerably reduced Argentina's cattle heard and land dedicated to livestock.
Argentina's herd traditionally has been in the range of 55 to 58 million head but is now below 50 million and slaughter statistics show an abnormal percentage of cows which means calves missing in the coming years.
The project is expected to create 300 full jobs and once in full production would be consuming 124 daily tons of cattle feed for fattening.
Marfrig believes that having its own feedlots will ensure its future activities in Argentina with a steady planned supply of cattle along the twelve months. In Uruguay Marfrig in the last few years purchased the leading abattoirs, all of them certified to export to United States, European Union and the Far East.