Colombian president Uribe remains opinion polls favourite for May 30 election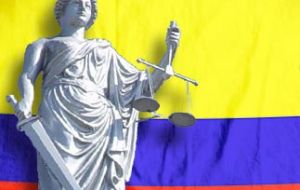 Colombian president Alvaro Uribe continues to lead vote intention polls for next May presidential elections if the Constitutional Court finally authorizes a referendum on a second consecutive re-election of the popular leader.
The latest opinion poll published in Sunday's edition of Bogotá's El Tiempo, Datexco, shows that if elections had been held over the weekend 46.21% of the Colombians would cast their support for Uribe compared to 8.08% for independent Sergio Fajardo and 7.89% for Rafael Pardo from the Liberal party. Other hopefuls such as the former mayor of Bogotá, Antanas Mockus follows with 5.53%; former conservative minister Noemi Sanin, 5.48% and Gustavo Petro from the Alternative Democratic Pole, 3.51%.
In case Uribe is finally barred from running or decides not to bid, Fajardo figures with 13.31%; Sanin 9.56%; Pardo 8.66%; former Defence minister Juan Manuel Santos, 7.89% and Mockus, 6.44%.
The Colombian constitutional tribunal has three months (beginning January 12) to rule regarding the "attainability" of such a referendum, but the president of the tribunal Nilson Pinilla said he was sure a decision will be forthcoming "very soon", since they did not need that much time.
In case the tribunal rules the referendum is constitutional, the surveys indicate 47.5% would vote for it while 43.7% will not to the polls. For Uribe to run in the May election he needs 25% of the electorate (approximately 7.4 million) to cast a vote.
"Most people would not like the referendum to take place but if the Constitutional Court approves it definitively there will be a majority that will vote for it", said Cesar Valderrama from Datexco. Of the percentage willing to vote in the referendum once it is cleared by the Court, 85.4% would support Uribe for a third mandate and 11.4% against.
The Datexco poll involved interviews with 1.200 people from Colombia's thirteen main cities with an error margin of plus/minus 3.7%. The Colombian presidential campaign was officially launched last week but all eyes were set on president Uribe and the uncertainty about him running for a second consecutive re-election.
In case the Constitutional Court gives the green light Colombians will have to vote on the referendum before May 30, to decide whether to amend the Constitution or not so that Uribe elected in 2002 and re-elected in 2006 can have another four years until 2014.
Nevertheless Uribe's political move has been severely questioned by the Colombian business community, the Church, part of the political system and foreign allies, particularly United States.