New Carrasco terminal among the "most beautiful airports in the world"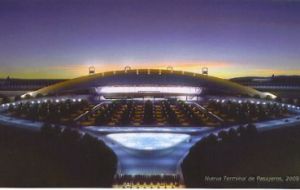 The new Uruguayan air terminal in Carrasco, inaugurated last November, has been included among fifteen of "the most beautiful airports in the world" according to the January edition of travel magazine "Travel+Leisure".
The article was written by Karrie Jacobs, a US renowned architecture critic who writes about travel, design, technology, visual language in several publications such as The New York Times and Fortune.
"The new terminal, opened in 2009 and designed by Uruguayan-born architect Rafael Viñoly, is a gorgeous throwback to JFK circa 1960. In spirit, it's like Saarinen's TWA Terminal, but in style, it's more similar to the JFK's international arrivals hall designed by Skidmore, Owings & Merrill. A 1,000-foot-long, low arch, it is as simple as a child's drawing of an airport, one unbroken, graceful curve. Inside, the departures hall is a great, sunlit room, like an old train station, and a top floor terrace commands sweeping views of the runways", writes Ms Jacobs.
She also points out to a rather unique feature of the Carrasco terminal which was underlined by Viñoly: "friends and family still come to greet you at the airport or see you off."
Thus the terraces and lounges are designed to be "dramatic and welcoming" for both ticketed passengers and their guests.
Another regional airport listed is Malvinas Argentinas in Ushuaia, Tierra del Fuego. Ms Jacob describes is as the world's most southernmost international airport.
"Its beauty is largely a function of its natural setting—flights here come in low over the majestic Andes Mountains—and its role as a gateway to Patagonia and the Antarctic. But, while many remote airports are marred by ugly bunker-style terminals, the charming timber-framed main building here doesn't detract from the natural setting".
The 15 airports in the list are : Terminal 3, at Beijing International Airport, China; Terminal 4, Barajas Airport, Madrid, Spain; TWA Terminal, John F. Kennedy Airport, New York; Sondika Airport, Bilbao, Spain; Denver International Airport, US; Incheon International Airport, Korea; Marrakech Menara Airport, Morocco; Chek Lap Kok Airport, Hong Kong, China; Tempelhof International Airport, Berlin; Malvinas Argentinas Airport, Ushuaia, Argentina; Kansai International Airport, Osaka, Japan and Kuala Lumpur International Airport, Malaysia.