Petrobras finds 25 million barrels oil reserve in shallow waters off Rio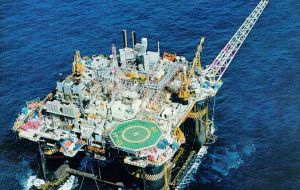 Brazilian government managed energy giant Petrobras announced this week that it has found oil at a well located in shallow waters of the Campos Basin. The find was made in waters just 200 meters deep and is near massive deposits in deeper areas of Campos, which is located off the coast of Rio de Janeiro state and is the basin where 80% of Brazil's oil is extracted.
Petrobras said the 4-PM-53 well contains an estimated 25 million barrels of recoverable heavy oil and is just 6 kilometres from the Pampo field, which is currently being developed.
"This discovery opens an important exploratory front to the east of the Pampo and Bicudo concessions," Petrobras said in a statement.
Because production infrastructure has already been installed in the area, the new well could be developed this year with rigs now operating at Pampo and Bicudo, Petrobras said.
"Given the excellent porosity and permeability ... of the reserve, it is estimated that the flow of oil from the well could reach 3,000 barrels per day," the company added.
"The discovery is the result of a strategy to intensify work near existing fields in production to capitalize on the capacity of existing installations, reduce production costs and accelerate the extraction of new oil volumes," Petrobras said.
Petrobras, Brazil's largest corporation and one of the world's fastest-growing oil companies, produces an average of 2.5 million barrels of oil and natural gas equivalent in Brazil and abroad.
An integrated energy company and a global leader in deepwater oil exploration and production, Petrobras operates in 27 countries in the Americas, Africa, Asia and Europe.