Mrs. Kirchner calls UN to force UK to Falklands' sovereignty negotiations
Wednesday, February 17th 2010 - 03:24 UTC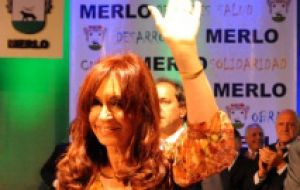 Argentine President Cristina Fernández de Kirchner defended her decision to place stronger controls on navigation and shipping within the Falklands called on the United Nations to force the United Kingdom to come through on negotiations over the sovereignty of that territory.
During a rally held in the Buenos Aires neighbourhood of Merlo, the president said that the United Kingdom has "systematically misunderstood" the UN resolutions and that "they have rejected the idea of sitting down" for negotiation.
Mrs. Kirchner promised she will insist "one thousand and one times for the international rights" to be respected, adding that "I am telling all Argentines that we will keep working for our rights in Malvinas".
This way the Argentine president supported her decision to impede ships from any nationality to operate within the ports in the Falklands, South Georgia and South Sandwich Island and the continent, without previous Buenos Aires authorization.
The Argentine official strategy consists of impeding the exploitation of possible hydrocarbon resources within the Falklands, particularly on the eve of an exploratory drilling round scheduled to being next week with the arrival of a rig.