General Haig, US mediator of Falklands War dies
Saturday, February 20th 2010 - 15:11 UTC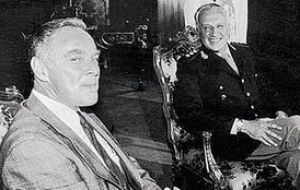 Alexander Haig, the decorated four- star general and assertive aide to U.S. presidents who declared himself "in control" at the White House after Ronald Reagan was shot, has died. He was 85.
He died about 1:30 a.m. today at Johns Hopkins Hospital in Baltimore, hospital spokeswoman Maryalice Yakutchik said in a telephone interview. The cause of death was complications associated with an infection, the Associated Press said, citing the Haig family.
Haig straddled the worlds of politics and the military during almost two decades in posts that included supreme commander of the North Atlantic Treaty Organization. His 18- month tenure as Reagan's first secretary of state, the pinnacle of his political career, was marred by turf battles and by the famous comment he could never live down.
He uttered it on March 30, 1981, hours after John Hinckley Jr. shot and wounded Reagan outside a Washington hotel. As surgeons worked to save Reagan's life at a nearby hospital, and with Vice President George H.W. Bush in flight to Washington from Texas, Haig huddled with other top officials at the White House, then went before reporters.
"Constitutionally, gentlemen," he told the press, "you have the president, the vice president and the secretary of state, in that order, and should the president decide he wants to transfer the helm, he will do so." He went on, "as of now, I am in control here in the White House, pending the return of the vice president and in close touch with him."
Fourth in Line
In fact, under the rules of presidential succession, Haig wasn't in control. The secretary of state is fourth in line to the presidency, behind the vice president, speaker of the House and president pro tempore of the Senate.
His off-the-cuff comment gave Haig a lasting image as a power-grabber. "It was reminiscent of Dr. Strangelove," Richard Darman, Reagan's deputy chief of staff, wrote in his memoir. "Haig intended to calm the nation. He unnerved the world."
Haig had "lost control" and "written his own political epitaph," Larry Speakes, Reagan's spokesman, recalled in his memoir. "From then on, other members of the Reagan team would be viewing him with suspicion, and within 15 months their hazing would drive him out of the White House."
For his part, Haig long defended his comment as merely "a statement of fact that I was the senior Cabinet officer present."
The 'Vicar'
During his stormy term as secretary of state, Haig called himself the "vicar of American foreign policy" and reportedly chafed when others -- even Reagan -- took steps without his approval. In one instance, White House Chief of Staff James A. Baker III rebuked Haig for remarks on Central America that diverted attention from the administration's planned message about the economy.
"Indiscreet and volatile, knowledgeable and arrogant, Haig was ever ready to take offense at slights real and imagined," Richard Reeves wrote in "President Reagan: The Triumph of Imagination."
In April 1981, while convalescing from his gunshot wound, Reagan penned a heartfelt handwritten note to Soviet leader Leonid Brezhnev, extolling the importance of peace. Haig tried without success to persuade Reagan to sharpen the letter's tone. Haig's tenure was "doomed from that moment," according to Reagan biographer Lou Cannon.
Reagan's Limits
"Al really did not understand how much Reagan intended to be his own president," Cannon said in a 2008 interview. "Reagan delegated a ton of stuff, arguably more than he should have, but he considered the U.S.-Soviet relationship the most important thing on his plate, and he was never about to delegate that."
Haig resigned in June 1982 and presented his side of the story in a 1984 book, "Caveat: Realism, Reagan and Foreign Policy." The Reagan White House was "an administration of chums," he wrote, and his status as an outsider was a "handicap."
He said he was unjustly blamed for failing to forge a diplomatic solution to avert the Falklands War between Argentina and the U.K. He also denied longstanding allegations that he gave Israel a green light to invade Lebanon in 1982.
Haig became a presidential candidate himself in 1987, joining a Republican field that included Bush, the sitting vice president. He dropped out on Feb. 12, 1988, four days before the New Hampshire primary, and endorsed Senator Robert Dole, who went on to lose the nomination to Bush.
Attacking Bush
Haig spent much of his brief candidacy attacking Bush, venting some leftover resentment toward the Reagan White House.
Rejecting one of Reagan's central arguments, candidate Haig said the ballooning budget deficit was a "Republican deficit" that couldn't be blamed on congressional Democrats. He indicated that at least some of his anger toward Bush stemmed from his feelings toward Baker, a Bush friend and adviser.
Alexander Meigs Haig Jr. was born on Dec. 2, 1924, the son of a lawyer. He was raised in the suburbs of Philadelphia. He graduated in 1947 from the U.S. Military Academy at West Point, New York, and obtained a master's degree in international relations from Georgetown University in 1961.
He served military assignments in Japan, Korea, Europe and Vietnam, working part of the time under General Douglas MacArthur. Among numerous commendations, Haig received a Distinguished Service Cross, the nation's second-highest medal for heroism, for leading outnumbered U.S. troops in a 1967 battle with Viet Cong forces.
Nixon White House
He joined Richard Nixon's White House in 1969 as chief military assistant to National Security Adviser Henry Kissinger, became deputy assistant to the president for national security and was promoted to general in 1972. He worked on negotiations for a cease-fire in Vietnam as well as arrangements for Nixon's historic visit to China in 1972.
After a brief stint as Army vice chief of staff, Haig returned to the White House and succeeded H.R. Haldeman as chief of staff as Nixon's team dealt with the fallout from the Watergate break-in. Haig played a central role in persuading Nixon to resign in August 1974.
Nixon's successor, Gerald Ford, named Haig commander-in- chief for U.S. forces in Europe. Haig then spent five years as supreme allied commander in Europe, responsible for the multi- nation forces of NATO.
He survived an assassination attempt in June 1979 when a bomb exploded near his car as he was being driven to his NATO office in Belgium.
That same year, he became president and chief operating officer of Hartford, Connecticut-based United Technologies Corp.
Confronting Soviets
Reagan, upon taking office in 1981, named him the 59th secretary of state. Haig endured contentious confirmation hearings in the Senate, then went to work building a foreign policy rooted in direct confrontation with the Soviet Union in Cuba, Central America and elsewhere.
His resignation in June 1982 marked the end of his work in government. He returned to United Technologies as senior adviser and director while opening and serving as chairman of Worldwide Associates Inc., which provides political and security consulting to international corporations.
He served on the boards of several companies, including America Online Inc., MGM Grand Inc. and Metro-Goldwyn-Mayer Inc. He was popular on the paid lecture circuit and hosted an independently produced weekly television program, "World Business Review."
In addition to his 1984 book on the Reagan White House, he wrote "Inner Circles: How America Changed the World," published in 1992.
Haig married the former Patricia Fox on May 24, 1950. They had two sons, Alexander and Brian, and a daughter, Barbara. (Bloomberg)