Tierra del Fuego prepares to implement Falklands' maritime traffic decree
Saturday, February 20th 2010 - 04:41 UTC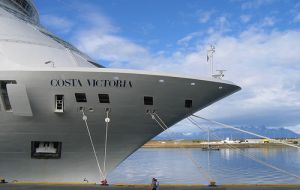 Argentine Tierra del Fuego Governor met this week with Coast Guard authorities in Ushuaia to coordinate the implementation of Decree 256 that regulates maritime traffic between Argentine ports and the Falklands/Malvinas Islands, and which could have an impact on the cruise industry.
According to Decree 256 all ships heading for Falklands ports crossing through Argentine waters must previously request a permit from the Argentine government.
"We are committed to make available all of our resources for the new system established by the federal decree in Tierra del Fuego provincial jurisdiction areas so as to collaborate in what is needed for the controls that are to be applied", said governor Fabiana Ríos.
The head of Coast Guard operations in Ushuaia, Rodolfo Alfredo González said that Governor Rios "was willing to provide all the structure of the provincial government for the implementation of the decree".
González explained that normally Coast Guard checks the incoming and outgoing vessels on security and documentation issues, "but from now on we will request authorization from the special committee created by decree 256" to fully abide with its implementation and purpose .
The control "will affect mostly cruise vessels sailing between Ushuaia and the Malvinas Islands which at this time of the year, high season, generate an important traffic" indicated Gonzalez.
According to local press reports the meeting was held at Government house in Ushuaia with the participation of provincial cabinet ministers whose offices will be involved in the implementation of the decree.
According to the decree a special commission under instructions from the cabinet chief and with representatives from different government ministries and offices will be in charge of evaluating the permits. So far the commission has not been named or the functioning and attributions clearly determined.
Under the Argentine constitution Tierra del Fuego province also includes Argentine Antarctica and the disputed South Atlantic Islands (Falklands, South Georgia and South Sandwich).-