Petrobras announces two discoveries with 65 million barrels potential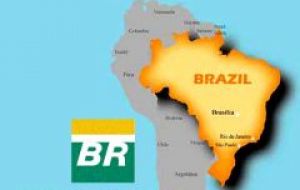 Brazilian government managed energy firm Petrobras announced this week it had made two separate discoveries of oil in the Campos Basin near Brazil's coast with recoverable reserves of 40 million and 25 million barrels.
The two discoveries were made in the same well, 6-BR-63A-RJS, but the larger reserves were "sub-salt" oil, which lies below the first find in a deep layer of salt rock a few kilometres (4.430 metres) under the ocean floor.
Petrobras is studying the idea of extracting oil from the well using the P-43 platform already installed near the well's location, about 100 kilometres from the coast of Rio de Janeiro.
Brazil's oil output is expected to rise significantly over the next decade, mainly due to the discovery of the potentially huge sub-salt reserves, which analysts have estimated could contain somewhere between 50 billion and 80 billion barrels of crude.
News of offshore discoveries is now a weekly occurrence as firms like Petrobras and OGX, owned by Brazilian billionaire Eike Batista, progress with exploration of offshore blocs.