US economy signals swift pace of recovery; consumer confidence remains tepid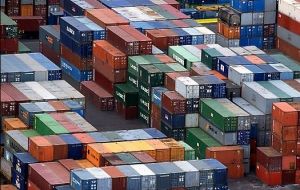 The US economy grew at an annualised rate of 5.9% in the last three months of 2009, revised official figures have shown. The rate is higher than the first estimate of 5.7%.
The figures confirm the world's largest economy is emerging rapidly from recession.
According to economists, the rise was down to an increase in manufacturing output rather than stronger consumer spending.
In fact, growth in consumer spending was revised down from 2% to 1.7% in the quarter.
Manufacturing rose to meet the demand from retailers and businesses who had allowed stock levels to fall.
Business spending on equipment and software, for example, saw an 18.2% rise, while exports of US goods rose by 22.4% - the fastest pace in 13 years.
While the swift pace of recovery in the economy has impressed many economists, few expect the rate to be sustained.
"[This is] nothing to change our view that GDP growth will maintain a rapid pace in the first half of this year, before slowing sharply in the second," commented Paul Ashworth, senior US economist at Capital Economics.
A recent fall in consumer confidence and a persistently high rate of unemployment are also causes for concern.
Consumer confidence slumped to a 10-month low in February, while the rate of unemployment remains close to 10% and is expected to remain high for the rest of the year according to the Federal Reserve.
Separately, sales of previously-owned US homes in January fell to the lowest level since the summer.
The National Association of Realtors said sales fell 7.2% to a seasonally-adjusted annual rate of 5.05 million, much more than forecast and down from 5.44 million in December. Economists had been expecting an increase from the previous month.
"Today's figure is certainly not good news in terms of sales," said Lawrence Yun, the association's chief economist. BBC