Thousands of Chilean troops sent to prevent looting in quake-hit Concepción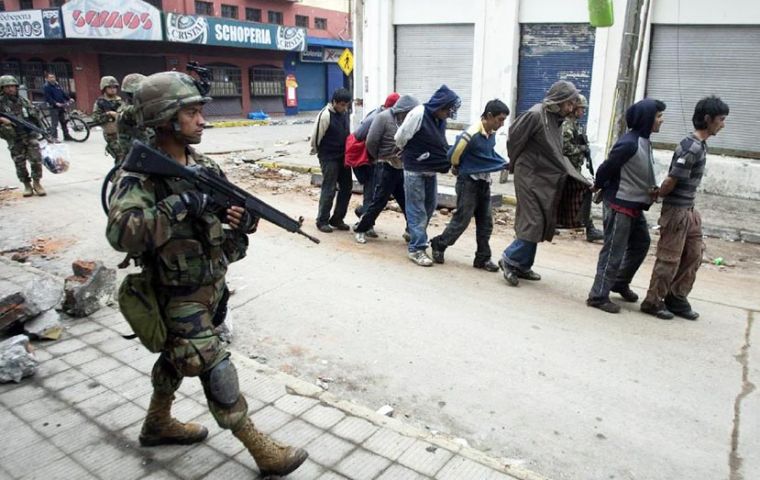 Chilean president Michelle Bachelet sent on Monday thousands of extra troops to the main quake disaster area in the city of Concepcion as angry and hungry residents set fire to department stores.
The toll from Saturday's 8.8-magnitude earthquake and the resulting tsunami that swept central and southern coastal towns rose to 723, with tens disappeared, as security fears deepened in Concepcion, the worst-hit urban area.
Troops deployed alongside police and Deputy Interior Minister Patricio Rosende said one person was shot and killed as they clamped down on rampant looting overnight, making 160 arrests.
"When we take account of the troops already in Biobio and Maule there will be by tomorrow 7,000 troops deployed" said Bachelet, as she stepped up efforts to crackdown on the looting and arson.
"I call on the responsibility and conscience of people, we all have to collaborate, pillage, looting delinquency is not acceptable", said President Bachelet, during a brief meeting with the press.
The UN's humanitarian coordination office (OCHA) in Geneva said it had been sent a list of priorities that included field hospitals, mobile bridges, communications equipment and disaster assessment and coordination teams.
After touring the disaster zone, President-elect Sebastian Piñera said "the situation is worse than expected" and recounted hearing cries for help when he entered a collapsed building not yet reached by rescue teams.
Rescuers with heat sensors and sniffer dogs picked through the debris of shattered buildings in Concepcion and special cameras showed three, perhaps four, survivors trapped in the twisted ruins of a 15-story apartment block.
Injured people prepared to sleep out for a third night, still rattled every so often by aftershocks. A staggering 121 with a magnitude greater than 5.0 have come since Saturday's quake -- one of the most powerful ever recorded.
The government has purchased all the food in Concepcion's big supermarkets so it could be distributed for free, and a barge and two Chilean air force planes were expected later with more supplies.
But Piñera said the situation in Concepcion was dangerous: "When we have a catastrophe of this magnitude, when there is no electricity and no water, the population... starts losing the sense of public order."
The scale of the devastation was still coming to light in seaside towns and villages engulfed by the massive waves that followed not long after the gigantic quake struck at 3:34 am Saturday. State television reported that more than 300 bodies had been found in the swamped fishing village of Constitucion. Some two million people, an eighth of Chile's entire population, were said to be affected.
Brazilian President Luiz Inacio Lula da Silva became the first foreign leader to visit since the disaster, expressing solidarity with the quake victims as he met with Bachelet briefly at Santiago airport before flying home. Related article: Chile quake far bigger but less deadly than Haiti
US Secretary of State Hillary Clinton, on a Latin America tour that will include a brief stop in Chile on Tuesday, said she had spoken with Bachelet and was bringing satellite telephones with her.
"They have asked for communications equipment, some of which I'm bringing on our plane. Other technical equipment will be flown there in addition."