Hillary meets President Bachelet pledges US support for quake-stricken Chile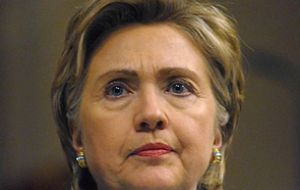 Secretary of State Hillary Clinton pledged U.S. support Tuesday to earthquake-stricken Chile during the third stop on her six-nation tour of Latin America. Clinton told reporters in Santiago the US stands ready to help Chile in any way the government needs.
Speaking alongside Chilean President Michelle Bachelet, Clinton said the US is "grateful" for what Chile did in Haiti after that country's devastating earthquake earlier this year. She said the Chilean rescue teams were "some of the best" in the world.
During her brief visit to the Chilean capital, Secretary Clinton is holding talks with Chile's president-elect, Sebastian Piñera, who takes office next week.
Secretary Clinton also brought much-needed satellite phones to the country. Other details of US aid are being discussed during Clinton's visit.
Hillary Clinton began her Latinamerican tour Monday in Uruguay for the inauguration of President Jose Mujica. Late Monday she flew to Buenos Aires to meet Argentine president Cristina Fernandez de Kirchner. From Chile she is scheduled to travel to Brazil and meet President Lula da Silva Wednesday.
In Brasilia she will try to convince Lula da Silva to join the United States in supporting new U.N. sanctions against Iran because of its nuclear program. She also plans to visit Costa Rica and Guatemala before heading back to the United States.