Santiago airport gradually returns to activity: mounts two huge tents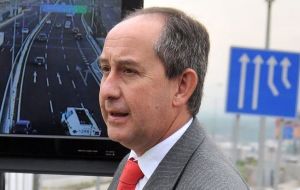 Santiago's airport is gradually resuming activity recovering from Chile Saturday's devastating quake and on Tuesday should complete 20 domestic and 20 international flights, (12% of its normal activity) according to Jose Huepe, head of the country's Civil Aeronautic agency.
For this purpose two tents have been set up, at each end of the air terminal, --which suffered structural damage and won't be fully operational for some time--, one to manage all flights arriving and leaving for different destinations in Chile while the other tent will address international traffic. This includes migration, customs and checking in.
"On Friday we should have part of the passenger terminal recovered and this way we can increase the number of international flights and normalize airport activities", said Juan Eduardo Saldivia, Deputy Minister for Public Works.
Saldivia together with Huele and Alfonso La Cámara head of the airport's concession SCL toured the area Tuesday morning to assess the situation and decide on a timetable.
"Today (Tuesday) we are operating 20 domestic flights and at night 20 international scheduled flights" said Saldivia, adding that "we hope the number keeps increasing".
Following the tour of the air terminal Saldivia anticipated that "the international sector, as we all knew it, should be fully operational in three weeks time".
Finally Chilean authorities called on tourists to keep calm since all scheduled flights as contracted with airlines "will effectively be complied".
"We are only asking for some patience, understanding, cooperation, because this will improve gradually but sustainedly" promised Saldivia.
Santiago's Arturo Merino Benítez, Chile's main air terminal has a daily normal activity of 380 scheduled flights totalling 25.000 people.
Meanwhile Lan, the country's main airline estimated that in a week's time most foreign passengers stranded over the weekend should have been able to return.
"We estimate at least a week to recover and dispatch all tourists, since we must remember we are working at 15%/20% capacity", said Enrique Rosende one of Lan's corporate directors.
"We will respect reservations based on time, we've organized an emergency system which will improve connectivity", added Rosende.