Santiago airport reopens domestic terminal and activity should reach 50%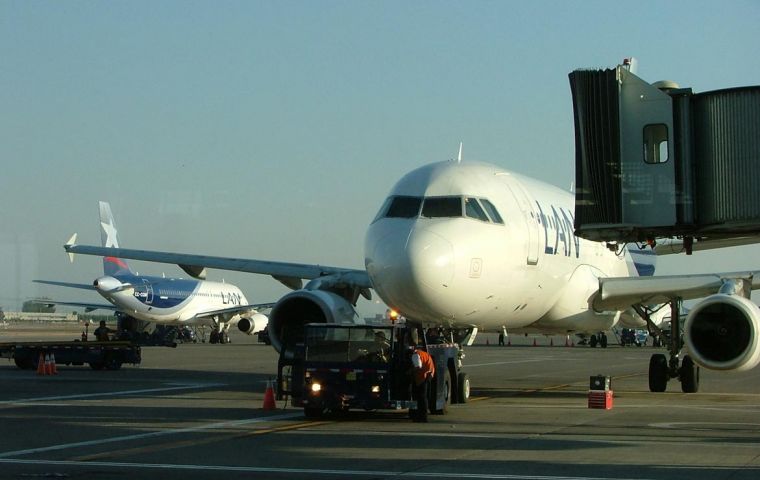 Passenger traffic at Santiago de Chile's main airport should reach 50% of normal activity on Thursday following the increase in commercial airlines flight numbers and the reopening of the domestic air terminal, reports the Chilean Civil Aeronautic Agency.
On Tuesday the number of domestic flights (arrivals and departures) reached 32, and between 20:00 hours and 08:00 Wednesday morning, 25 international schedules were completed.
This does not include the many operations undertaken by the Chilean Air Force in support of the emergency zones devastated by the massive earthquake of last Saturday.
Operations were facilitated with the mounting of two huge tents, for domestic and international flights, at the Arturo Merino Benitez airport which helped with the checking in of passengers. Migration, Customs, International police, sanitary officials at the tents resembled a return to normality, although still precarious.
However as of Wednesday the national air terminal was reopened with all services and on Thursday should be fully operational helping to speed commercial air traffic.
The working schedule remains on 24 hours emergency which means domestic flights during the day and international flights at night.
Chilean authorities have said that the recovery of the Santiago airport terminal, severely damaged by the quake, (but not the airstrips) could take up to three weeks. However traffic is expected to be back to normal no further than next Monday.
The Santiago air terminal, Chile's main airport and hub for regional flights normally handle 380 flights and 25.000 passengers per day.
Regarding the long queues Jose Huepe head of the Chilean Civil Aeronautic Agency said that sometimes "passengers try to advance their flights and ignore schedules and turn up at the airport. But this is something commercial airlines must inform to their travellers".
LAN Marketing manager Pedro Margozzini said that those travellers who had their flights modified "must check the LAN web site to see if the aircraft is available and then confirm the ticket with the company's call centre".
Margozzoni revealed that on Wednesday LAN was operating at 30% of its capacity with 25 domestic and 13 international flights taking off from Santiago airport.
LAN marketing manager also apologized saying that "our check-in systems are compressed since we have less counters than what we would like and this limits us severely when dispatching flights".