Argentina: Defiant Cristina: "this president will pay debts with central bank reserves"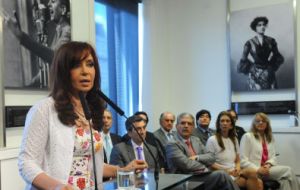 Argentina's president defiantly vowed on Thursday to tap billions of dollars in foreign currency reserves to pay debt, in spite of Congress and the Judiciary, but also appealed a court order blocking her latest attempt to use the funds.
On Monday Cristina Fernandez de Kirchner signed a new decree to transfer some 4.4 billion US dollars in reserves to the Treasury, a federal judge issued a ruling that ordered the Economy Ministry not to use the money "in any way" until Congress reviews the decree.
The ruling represents a major setback for Mrs. Kirchner's drive to use Argentina's international reserves to help pay some 15 billion USD in debt maturing this year.
Debt markets originally cheered her determination to repay debt at a time when the cash-strapped government is trying to restructure 20 billion US dollars in defaulted bonds and return to international debt markets.
"I'm convinced I'm acting within the limits of the Constitution," she said in a televised national address. "This president wants to, and will, pay debts with central bank reserves."
"I'm looking for ways to pay the debt nobody seems willing to pay," she warned. She then dared the opposition by saying: "If there is somebody who knows a better and alternative way of servicing the debt, then I let that person teach me how."
Mrs Kirchner criticized the current opposition which she described as "not a majority, but a circumstantial gathering, a blending of several sectors who are just trying to place obstacles in our decisions and attempt to dismiss officials."
"I know it is my responsibility to service the debt, so I will seek ways to do it. I will not allow a judge to default it: another president has already defaulted it and caused severe damage to all the Argentines" Mrs Kirchner stressed recalling the 2001/02 default.
She even said she was "willing to be condemned by any judge, but not by the history," when she strongly made clear that she is not to "leave the country with an unpaid debt."
Mrs. Kirchner this week revived her plan to tap some 6.6 billion USD of foreign reserves, stoking political tensions and raising prospects that the newly appointed central bank president, a government ally, may be ousted by Congress.
Mrs. Kirchner issued a decree in December setting aside more than 6 billion USD in reserves to guarantee debt payments this year, aiming to lower the country's costs of issuing new debt. She then fired former Central Bank President Martin Redrado for refusing to hand over the money and the reserves decree was blocked by a court after opposition lawmakers challenged it.
But last Monday Mrs. Kirchner annulled the decree and replaced it with two new ones that ordered the transfer of 4.4 billion for private creditors and 2.2 billion to pay multilateral lenders. The Central Bank, under a new president, Mercedes Marco del Pont, aligned with the Executive, immediately handed over the larger amount.
The Argentine president in her speech criticized judges and said opposition to her plan amounted to an attempt to bring down the government.
It was later reported that Federal Judge in the Contentious-Administrative Court Claudia Rodríguez Vidal granted an appeal request filed by the National Government against her decision to temporarily suspend the 298/10 presidential decree that allowed for the use of foreign reserves to service public debt.
After her decision, the case is now in the hands of the Federal Contentious-Administrative Court, which is expected to begin studying immediately.
"I'm very respectful of institutions and investitures," federal judge in the Contentious-Administrative Court Claudia Rodríguez Vidal said, according to the Judicial Information Centre.
When asked about her recent actions in the case that blocked the use of foreign reserves to service public debt, she explained she "just took the necessary measures" that she considered "appropriate" in the conflict.
She also said that she granted the Government's request to appeal today so it's ultimately "up to the Court" to decide the future of the decrees.