China promised to reverse income gap between rich and poor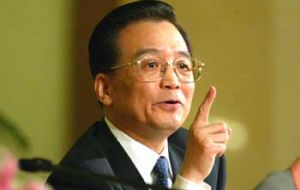 Chinese Premier Wen Jiabao has said China must reverse its widening income gap between rich and poor. He said benefits of a growing economy - expected to expand by 8% this year - should be distributed more fairly.
In a major speech at the start of China's annual parliamentary session, the premier also said the economy needed restructuring.
He wants Chinese firms to improve their ability to innovate, producing high-tech and high-quality products.
The premier's comments came in a wide-ranging speech delivered in Beijing's Great Hall of the People, where the largely ceremonial parliamentary session is being held. In the keynote speech, Mr Wen reviewed the government's work over the past 12 months and set out its policy goals for the coming year.
The speech touched on many issues, but on a number of occasions the premier spoke about the need to make China a fairer society.
"We will not only make the 'pie' of social wealth bigger by developing the economy, but also distribute it well," Mr Wen told about 3,000 delegates, returning to a theme that he has often spoken about during his premiership.
"[We will] resolutely reverse the widening income gap," he added later, in a speech that lasted more than two hours.
As part of that project, the premier said China would reform the household registration system that classifies people as either city or rural dwellers.
This controversial system means many migrant workers - farmers who travel to towns and cities to find better-paid work - are unable to get proper services.
"[We will] gradually ensure that they receive the same treatment as urban residents in areas such as pay, children's education, healthcare, housing and social security," he said.
But Mr Wen did not outline what policies would be introduced to achieve that aim, and when they would come into force.
And, importantly, he said reforms would only be carried out in towns and smaller cities, suggesting the system would remain in place in big urban centres such as Beijing and Shanghai. Mr Wen also addressed what he called a "complex situation" facing the economy, which he said should expand by 8% this year.
Last year China was desperate to keep the economy growing following a global downturn that left many Chinese people without jobs.
But now, having weathered the worst of that crisis, Premier Wen said China needed to concentrate on restructuring the economy.
"This is a crucial year for… accelerating the transformation of the pattern of economic development," he said.
He wants future growth to be fuelled by innovation.
China should also expand consumer demand by getting people to spend on such things as tourism, fitness and other services.
Delegates to the Chinese parliament are selected, not elected, but in his speech Premier Wen indicated that he does listen to those outside the government.
Many people across China are currently concerned about rising house prices that mean many cannot afford a home. (BBC).-