FAO calls on politicians not to confuse bio-technology with "transgenic"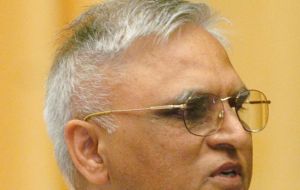 The United Nations Food and Agriculture Organization called for greater global support and funds to be invested in biotechnology research and regretted that so many politicians "do not understand that biotechnology is far more that Genetically Modified Organisms, OGM".
FAO Director of Plant Production and Protection Shivaji Pandey said that the problem with politicians and even leaders "is not only limited to developing countries" but is also extensive to developed countries.
The Indian born scientist emphasized that the controversy over "transgenic" should not stop "the use and research of bio-technology".
However Pandey did admit there are problems to solve given the loss of talents from the less developed countries whose scientists are educated overseas but do not return because they don't know whether "they will have the political, financial and administrative support to practice what they have learnt".
"Many leave and never come back" he complained supporting his frustration with statistics from the year 2000 which showed that 96% of agriculture research on biotechnology is concentrated in the developed countries and only 4% in the developing countries.
Nevertheless he mentioned that of those where more and better efforts are being invested in biotechnology include Brazil, which has addressed the issue "with an open mind in a brilliant and democratic way"; India which is still missing government resources; China that has achieved considerable advances in "human development and infrastructure" and in South Africa.
Penday said he was hopeful that "biotechnology is recognized as a potent tool to help address the global problem of hunger", and countries leave aside pre-concepts and invest heavily in this field.
According to FAO, biotechnological innovations can be of significant assistance in doubling food production by the year 2050 and in addressing the uncertainties of climate change.
"In the past few decades, the field of biotechnologies has advanced at a formidable speed and generated numerous innovations particularly in the field of pharmaceuticals and some in the field of agriculture" said FAO Assistant Director General Modibo Traore.
The innovations in agriculture include highly successful rice hybrids for Africa that have doubled rice yields, the use of artificial insemination to raise dairy cattle milk yields in Bangladesh and the use of DNA-based methods to detect shrimp diseases in India.
But most biotechnologies cannot be fully exploited because "often, there is emphasis on genetically modified organisms only, which overshadows all other biotechnologies and their potential contribution to agriculture. In addition, the synergy between the public and private sector remains to be harnessed."
"New technologies should make their contributions also through efficiency gains from better management of inputs and biodiversity. This will require greater involvement of farmers, institutions and communities. It will require other enabling factors such as policies, institutional support, and investment in human and physical capital and in-country capacity building. FAO focuses its activities on support to smallholders in order to sustainably increase agricultural productions, improve access to markets and enhance livelihoods" insisted Traore.
The international community should play a key role in supporting developing countries by fostering partnerships and providing a framework for international cooperation and funding for the generation, adaptation and adoption of appropriate biotechnology concluded FAO Assistant Director.