Brazil expects second best crop this year with 145.1 million tons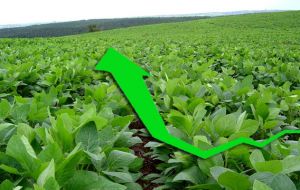 Brazil will harvest a grain crop of 145.1 million tons this year, a volume very close to the record 145.8 million tons of 2008, said the government's statistics office, IBGE on the basis of February field data.
The production of grains, legumes and oil-seeds this year will be 8.5% greater than in 2009, according to the latest estimate. The previous estimate based on data from January indicated the total crop would reach 143.4 million tons.
Land under cultivation will grow by 1.5% compared with 2009, eventually reaching 47.9 million hectares, said IBGE.
The crop boost this year can be attributed mainly to the 17.4% increase in soybean production and 2.6% increase in corn.
Soybean is the chief crop production of Brazil, accounting for just under half of the total grain and oil seed output.
Soy, corn and rice, the three main crops, occupy 81.5% of all the cropland in the country.
Soybean production this year will reach 66.9 million tons, thanks to improved climatic conditions and the increase in the area under cultivation, while the corn harvest is forecasted in 52.4 million.
Brazil, the world's top grower and exporter of coffee, will produce 2.8 million tons of beans this year which is 14.4% more by volume than last year.