Argentine public opinion growingly disenchanted with political leadership
Thursday, March 18th 2010 - 02:10 UTC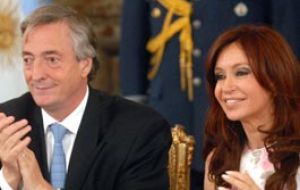 To everybody's surprise Argentine President Cristina Fernandez de Kirchner and her husband and former president Nestor Kirchner have experienced a recovery in their public opinion standing, according to a poll from a "most respected consultant" which does not work for the Argentine government.
The results which have been managed with certain discretion indicate that the positive image of the presidential couple has climbed from 21% and 23% a month ago to 27% and 28% (for him and her). However this is still quite distant from the 56% support Mrs. Kirchner had when she was inaugurated in December 2007.
The level of acceptance of Mrs. Kirchner administration at national level currently has reached 35%, although rejection remains overwhelming, 65%.
In spite of the enthusiasm of the Kirchner couple and their strategists with the latest results, public opinion polls analysts point to the fact that what the numbers are reflecting are not necessarily support but rather the growing disenchantment of Argentine public opinion with their leaders, with the workings of the political system.
In effect, two of the rising independent stars born out of conflicts with the Kirchners autocratic practices, Vice President Julio Cobos and Buenos Aires City major Mauricio Macri have seen a significant descent of their positive image, even when it still remains far ahead that of the presidential couple.
The poll was taken the last week of February and first days of March in the midst of the Kirchners' conflicts with Congress and the Judiciary, soaring inflation, particularly food prices and the government's attempt to tap Central bank reserves to pay debts.
So it would be hard to unveil the true motives of this five points surge in only a month.
But political analysts point out to the fact that a growing number of Argentines, when asked about the country's main problems and which most concern them, they have increasingly been pointing to the ruling class, the political leadership.
This seems to be supported by the erosion in support for Cobos and Macri, once seen as the presidential hopefuls with most potential for 2011.
Nevertheless in spite of the encouragement the percentages have triggered in Casa Rosada, political analysts believe the Kirchners can still win many games and sets, and possibly some matches, but this is no guarantee that they can revalidate their dream, recently made public, of remaining in office alternatively until 2020.