Falklands politicians an important resource says British Government official
Thursday, March 25th 2010 - 13:04 UTC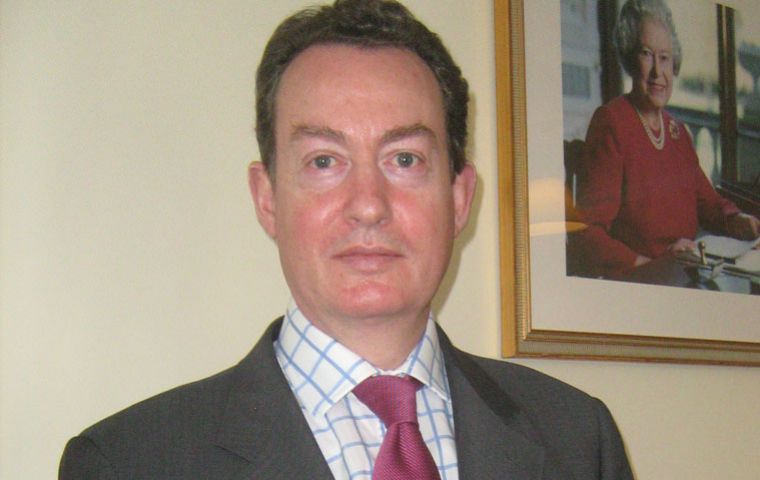 "AN important international diplomatic resource" is how Foreign and Commonwealth (FCO) official Colin Roberts visiting the Falkland Islands describes Members of the Legislative Assembly (MLAs).
Director of the Overseas Territories Directorate FCO Colin Roberts encouraged MLAs to continue to attend the annual United Nations Committee of 24 in order to promote the Islanders right to self determination, saying, "It is important to recognise how effective their advocacy is."
He praised recent letters from MLA Jan Cheek to British newspapers The Times and The Guardian where she reiterated the Islanders' position and corrected points made by the authors of articles about the Falklands.
Mr Roberts' supportive attitude will be welcomed by the MLAs and is in sharp contrast to pre 1982 attitudes from the British Government towards Islanders.
He also confirmed that one of his primary reasons for visiting the Islands was to check the Islands Government was satisfied with the level of support being given by the British Government in relation to hydrocarbons exploration, as well as the way the British Government has coordinated the diplomatic response to the arrival of the rig.
He said the Prime Minister has been following the situation very closely, adding, the way it had been handled, "…should be very reassuring as the Prime Minister has made it clear that Great Britain remains committed to the principles of self determination…"
"The important and highly professional," work of the de-miners in the Falklands was also a subject for discussion, in particular, "…the process of communicating that information to the public."
Mr Roberts will have a very 'hands-on' role in this process today when he joins the Governor of the Falkland Islands and others, in walking through the first minefield to be cleared by the British de-mining company BACTEC.
The issue of public finances was also high on Mr Robert's agenda. He said he had been very encouraged by the state of the Falklands public finances and that they are in far better shape than other British Overseas Territories, "Nevertheless there are pressures on the economy and a deficit in the coming year."
He said it was recognised that finances, "remain vulnerable to external shocks," and he and the MLAs had discussed issues of resilience and challenges and planning ahead.
By Lisa Watson – SeAledPR - Stanley