Falklands join Earth Hour, the 125th country to participate in the global event
Saturday, March 27th 2010 - 06:44 UTC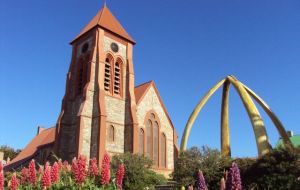 The Falkland Islands are to participate Saturday in 'Earth Hour', a global awareness campaign on climate change organised by the World Wide Fund for Nature which spans thousands of cities around the world.
Individuals, commerce, governments and communities are invited to turn out their lights for one hour on Saturday March 27, 2010 at 8.30pm (local time) to show their support for action on climate change.
Matt Wilkins, Operations Manager at Earth Hour Global, welcomed involvement by Falkland Islanders, saying "This is great news! We are very excited to have the Falkland Islands on board – you are the 125th country/territory to participate."
The Falkland Islands involvement in Earth Hour is being co-ordinated by the Hon Emma Edwards MLA, who is also a geography teacher at the Falkland Islands Community School. Ms Edwards reported that students at the school are keen to take part and show their support for climate change initiatives.
The lights at Whalebone Arch in Stanley are to be switched off for one hour at 8.30pm Saturday, and all residents and businesses are encouraged to take part by switching off their own lights at the same time.
The event began in Sydney in 2007, when 2 million people switched off their lights. In 2008 more than 50 million people around the globe participated, and in 2009 participation swelled to hundreds of millions across 4159 cities and towns in 88 countries.