Argentine leader challenges Mr. Kirchner to admit he will run in 2011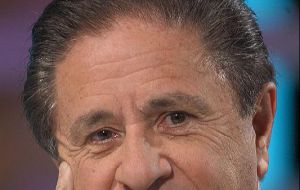 Former Argentine take-care president Eduardo Duhalde anticipated that next year's ruling Justicialist Party primary elections will be a duo solo between him and also former president Néstor Carlos Kirchner.
The statement seems targeted on the Kirchner couple (President Cristina Fernandez and Mr. Kirchner) who in spite of poor readings in opinion polls seem determined to run again in 2011, as has been suggested lately by some members of the current ministerial cabinet. Duhalde wants the presidential couple to make their ambition public the earliest possible.
Duhalde also minimized the chances of Senator Adolfo Rodríguez Saá and multi-millionaire Francisco de Narváez, the other two Justicialist party members' politicians that made public their intentions to join the presidential race of 2011.
Likewise, and during the week Duhalde had also downplayed Sante Fe Senator Carlos Reutemann's presidential ambitions as he said "he doesn't have what it takes".
"It's going to come to a two names dispute: Kirchner and I", Duhalde told reporters during an interview, and added, "Rodríguez Saá has already said that he will not run for president, while De Narváez situation is publicly known, plus the constitution is more than clear. He can't run for president (De Narváez was born in Colombia) and he better look for some other options."
Duhalde, who ruled the province of Buenos Aires from 1991 to 1999, kept charging against the businessman and said: "De Narváez is afraid of running for the governorship of Buenos Aires", and sent him a direct advice, "He better run for Buenos Aires City Mayor".
Duhalde was nominated president by the Argentine Assembly in 2001/02, when elected president Fernando De la Rúa resigned overwhelmed by economic and political problems. Argentina defaulted and in 2003 then Santa Cruz province governor Nestor Kirchner sponsored by Duhalde was elected president. But since the two couples (Mrs Duhalde is a Senator) have become declared enemies.
Every week since announcing his intention to run in 2011, Duhalde has been launching a "torpedo" against President Cristina Kirchner and her husband Nestor Kirchner who is considered Argentina's strong man with the purpose of catching news headlines.
Last week Duhalde proposed calling a referendum to definitively finalize all trials of military and police forces allegedly involved in human rights abuses during the last military dictatorship which extended from March 24 of 1976 to 1983.
The issue is highly controversial but a majority of Argentines, according to public opinion polls, feel it's time to get on and address more current and compelling problems such as inflation and the "urban human rights" of law abiding tax paying citizens threatened by a wave of crime and police excesses.