Argentine dockworkers strike expands; 5.000 trucks waiting to unload
Tuesday, March 30th 2010 - 04:46 UTC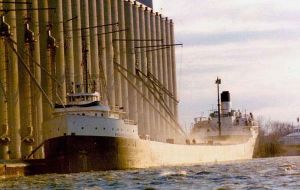 Argentine dockworkers expanded the strike to eight terminals, mainly in the Greater Rosario port area, the heart of the country's soy bean belt, demanding higher pay and improved working conditions. The conflict comes when Argentina, the world's third exporter of the oil seed prepares to ship the latest crop.
The head of the Dockworkers Cooperative, and General Secretary of the Argentine Dockworkers Union (SUPA), Hermes Juárez confirmed that the protests are due to salary hikes workers are claiming, and also warned the exporter companies.
"It is time for the businessmen to open the dialogue. I'm looking forward to hearing from them, so that we can sit down and discuss the whole matter. Dockworkers are stronger than ever on their demands, so they (businessmen) better call us".
There have been unconfirmed reports that talks between both sides under mediation of the Planning Ministry were to start late Monday. However a press spokesman from the Planning Ministry said nobody at the ministry was aware of such a meeting.
It was also said that exporter companies' representatives would come up with an offer of a 40% salary raise for dockworkers in 2010 and a similar raise for next year.
Some 5,000 trucks carrying grains are still lined up near the San Martin port in Rosario, Santa Fe province. Initially, only three terminals were being blocked by protests, now the number has increased to eight.
Workers began halting the loading and unloading of ships in a strike that has helped US corn and soybean futures rally.
The protests come as the soy and corn harvests begin in Argentina, the world's number 3 soybean exporter and the top supplier of soy-oil and meal. Argentina is also the No. 2 supplier of corn after the United States.
"After going back and forth during negotiations we had to take stronger measures because we couldn't reach an agreement" Pablo Reguera, secretary general of the San Lorenzo oil crushing workers union, which supports the strike.
The truckers' union, led by Hugo Moyano who also heads Argentina's main unions' labour confederation CGT, also vowed to support the strike. The union signed a pact with the truckers and port workers' unions as all members agreed to lay down their tools to support the pay claims of the other unions.
Port worker unions want exporting firms that operate in the terminals to raise tariffs so workers can get a 100% salary hike.
Argentine farmers recently began the 2009/10 soy season which is expected to produce a record crop of 53 million tons, but a strike in the coming weeks could hit production and shipments.