Argentina begins next week to pay debts with Central Bank reserves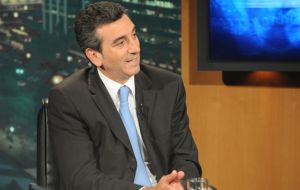 Following an Argentine federal court ruling approving the use of Central Bank reserves for the payment of foreign debt the administration of President Cristina Fernandez de Kirchner will begin transactions next week using the liberated funds.
"Argentina is finding its way out of the default" said Interior minister Florencio Randazzo, adding that the government "has been allowed" to pay the debt with Central Bank reserves. He specified that a payment will be made next week for more than 200 million pesos.
In addition, he confirmed that an external debt payment has been made for some 144 million pesos, but clarified that the funds used were from the National Treasury and warned that the government never went against the sentence that had put a break on the use of Central Bank reserves.
Randazzo said also that, after the debt swap process closes, the government will reinitiate the negotiations with the Paris Club in order to "definitively exit the default."
Earlier in the week two Federal Contentious Administrative Courtrooms N°1 and N°4 ruled in favour of using the Central Bank reserves in order to service public debt.
The decision shows a pro-Kirchner government stance, as it cancelled the injunction that was blocking the Government from the reserves, leaving Judge Claudia Rodríguez Vidal's ruling with no effect, for it now accepts the government's appeal on the matter. After these rulings, the Executive branch will be able to freely use the reserves.
Court room N°4 rejected Judge Rodríguez Vidal previous injunction decision, which at that time caused the blocking of the Central Bank reserves. The precautionary measure had been filed by several opposition members of Congress and was aimed at freezing the 298/10 emergency decree.
Opposition Senator Gerardo Morales and Oscar Aguad and Deputy Ricardo Gil Lavedra had requested to extend the blocking, as it held similarities that the 2010/09 revoked decree. Rodríguez Vidal has accepted that request.
The Federal Contentious Administrative Court cancelled the injunction for it considers "Rodriguez Vidal is not competitive to rule in this matter."
Court N°1 issued its decision on a Dissident Peronist request, filed by Graciela Camaño, Felipe Solá and Alfredo Atanasof, just as the Radicals had done previously.
However Court members Pedro Coviello, Néstor Buján and Clara do Pico decided that both decrees -2010 and 298- are similar and that Judge Rodríguez Vidal is "not competent" to decide on the matter.