Euro zone Feb unemployment at its highest, 10%; Spain at record 19%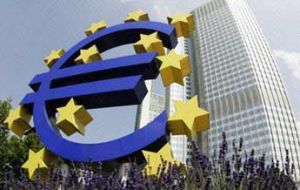 Unemployment rates reach double digits in February in the Euro zone to hit an 11-year high in the 16-nation bloc. The February unemployment rate stood at 10% — the highest level to hit European nations since August 1998 — tipping the unemployment rate into double digits for the first time in 2010.
While earlier reports brought good tidings of a much-awaited economic recovery in Europe, figures showed that some 61,000 people in the Euro zone lost their jobs in February, bringing the total number of jobless Europeans to 15.7 million, said European Union statistics agency Eurostat.
Spain has the highest jobless rate at 19%, with almost one-fifth of its labor force out of work. At the other extreme the lowest Euro zone jobless rate were reported in the Netherlands at 4% and in Austria at 5%.
Meanwhile, Eurostat announced that inflation in the 16-country area was 1.5% year-on-year, the highest since December 2008 and up from 0.9% in January.
Analysts believe the sudden increase was a direct result of soaring energy prices.
However, inflation still remains below the European Central Bank's inflation target of just below 2%, and analysts do not expect the bank to change its key interest rate from 1% for several months.
"Euro zone inflation is now the highest since December 2008. No breakdown is available at this stage, but regional data from Germany suggest that around half of the increase was due directly to energy prices," said Jennifer McKeown, a senior fellow of Capital Economics.
The rise in the unemployment rate is being seen as a further sign that the Euro zone's recovery from recession remains slow.
Across the 27-nation European Union, the unemployment rate rose to 9.6% in February, from 9.5% in January.
Separate figures from Germany on Wednesday indicated that unemployment there was falling. Federal Labour Office figures showed the jobless total fell by 31,000 in March to a seasonally adjusted total of 3.382 million, with the unemployment rate dropping to 8% from 8.1%.