Falkland Islands: Investors lose fortunes as oil shares plummet
Thursday, April 1st 2010 - 05:53 UTC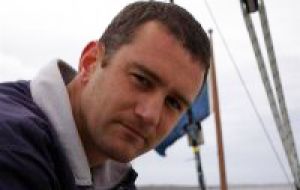 LOCAL investors – reputedly one in ten of the population – saw the value of their oil shares plummet this week as Desire Petroleum confirmed media speculation that the first oil found by the Ocean Guardian rig was of poor quality.
The announcement came after more than 30 days of drilling on its Liz 14/19 well, 100km north of West Falkland, and stocks immediately nosedived as a result.
Desire Petroleum shares slumped by nearly 57 per cent, and shares in Rockhopper Exploration, which will be the next company to drill in the Falklands Northern Basin, also fell sharply.
Although relating to areas with different geology, shares in Falklands Oil and Gas fell 15.8 per cent and Borders and Southern dropped as much as 27 per cent.
According to the statement issued by Desire Petroleum Chairman Stephen Phipps, and its Chief Executive Officer Dr Ian Duncan, the well had reached a depth of 3,570 metres and logging was underway.
The report continued: "The primary Liz target was encountered at around 2,550 metres with indications of hydrocarbons while drilling. Subsequent logging operations have shown that oil may be present in thin intervals but that reservoir quality is poor.
"Wireline sampling is still to be carried out.
"Deeper gas shows have also been encountered while drilling, particularly below 3,400 metres, and these have still to be evaluated by wireline logging and sampling.
"Until the logging is complete and the results analysed it will not be possible to determine the significance of the hydrocarbons encountered and whether the well will need to be drilled deeper, suspended for testing or plugged and abandoned.
"Operations are expected to be completed later this week when a full announcement will be made."
Falklands investors greeted the news with a mixture of resignation and muted optimism that commercial quantities of oil might yet be found.
Rockhopper investor Laurie Butler said: "I'm not surprised they never found a lot of oil, not at all. I haven't got enough money in it to worry."
Jenny Luxton, who bought Desire shares when they were first floated in 1996, and Rockhopper shares about six years ago, said: "I don't have many shares. I'd like them to come up, so I have a little bit of spare cash, but if they don't I'm not losing a heck of a lot either.
"It would be jolly good for the Falklands if they did strike oil, though. I don't think we'd survive without."
Adam Cockwell, who invested in Rockhopper Exploration several months ago, said he was not particularly concerned: "I think it's far too early in the campaign to be elated or upset," he said.
"It's not entirely surprising the market reacts that way. It's the first hole, and we haven't even had any real information yet.
"It's a big loss for people, but equally in another couple of weeks it could go through the roof again.
"It's just a case of steady as she goes, I guess."
Those sentiments were echoed by FIG's Director of Mineral Resources, Phyl Rendell, who said yesterday that technically the drilling had gone well and would have yielded much useful information.
The rig will now go to Rockhopper Exploration and then to FOGL, giving Desire Petroleum two months to analyse data and refine their programme accordingly, before embarking on drilling their other prospects. (Penguin News)