Buenos Aires City surrounded by two million Argentines living in shanty towns
Tuesday, April 6th 2010 - 01:02 UTC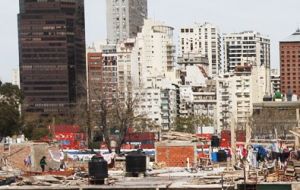 Over two million people live in a thousand shanty towns in the surroundings of Argentina's capital Buenos Aires in conditions of extreme marginality and precariousness, according to official data released by the weekend press.
These people live "in almost a thousand 'misery villas' (villas miseria), irregular settlements and other precarious urbanizations", said Baldomero Alvarez de Olivera, Social Development minister of the Buenos Aires province.
The projections are based on a field research from the General Sarmiento National University, published in 2008, which states that demographic growth in the marginal settlements of the 24 municipalities that surround the capital Buenos Aires reached 57.5% between 2001 and 2006.
According to Social Development ministry sources "one of the main reasons for this explosive growth in informal shanty towns can be attributed to the flexible labour legislation which was imposed in the nineties…"
In the municipalities of San Martin and La Matanza, the largest of Buenos Aires province and which hold the most of these settlements, in each shanty house an average four people live, mostly from Paraguay and Bolivia.
The provincial government of Buenos Aires following on the experience of Brazilian city Rio do Janeiro, -famous for its favelas- and which has an urbanization program for shanty towns, has earmarked the equivalent of 130 million US dollars to build emergency homes and eradicate the unhealthy abode of tens of thousands.
The idea is to build 35.992 liveable homes in these precarious settlements in the "mid term".
Buenos Aires province governor Daniel Scioli is currently in Rio do Janeiro familiarizing with the Brazilian experience.
One of the most famous of these precarious settlements in the heart of the city of Buenos Aires known as Villa 31, which has decades established, is under a recovery program financed by the government of the Argentine capital which is basically to build infrastructure, services and dignified homes.
The work is quite urgent since Villa 31 is suffering from overcrowding and some of the precarious buildings now have three and four floors, lacking the appropriate foundations, and some have collapsed or are in such process…
Urban poverty in Argentina has been established at 13.9% for the first half of 2009, which would be equivalent to 3.429.000 people according to the latest data from the National Statistics and Census Institute or Indec.
But since this office is known for the manipulation of statistics to favour government goals, particularly referring to inflation, employment, poverty and indigence, it is hard to confirm or believe much of its information, but the fact is that the once Paris of the River Plate is effectively surrounded by several rings of "misery villas".