BRIC leaders arrive in Brazil for two-day summit in anticipation of G20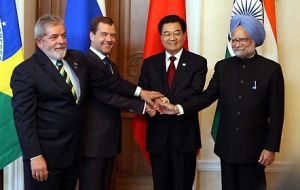 Leaders from the world's four biggest emerging economies --Brazil, Russia, India and China, arrived in Brasilia Wednesday for a two-day summit. It's the second summit of the so-called BRIC countries.
Analysts say the BRIC leaders are likely to renew calls for a greater say in the global economic order. BRIC countries represent 40% of the world population and around 20% of global economic output.
Indian Prime Minister Manmohan Singh, Chinese President Hu Jintao and South African President Jacob Zuma arrived one after the other in Brasilia late Wednesday, Brazilian officials confirmed. Russian President Dmitry Medvedev was to arrive Thursday. He is currently in Argentina.
India, Brazil and South Africa will hold their own three-way summit on Thursday, while China's Hu and Russia's Medvedev hold a number of bilateral talks.
At their first summit last year in the Russian city of Yekaterinburg, the BRIC leaders pushed to overhaul global financial regulations and move towards a new international reserve currency.
Finding an alternative to the US dollar, however, is not on the official agenda for this year's summit.
China's currency, the Yuan, is likely to be discussed, but analysts doubt the leaders of Brazil, Russia and India will pressure China to let its currency strengthen.
The United States and other countries are pressuring China to let its currency float.
They complain a weak Yuan -- now pegged to the U.S. dollar -- gives Chinese exports an unfair advantage in global trade.
Business leaders from the four countries are expected to use the summit to explore business opportunities.
The BRIC summit comes ahead of a G20 meeting later this month in Canada.
After the BRIC official summit on Friday, Hu was to hold a brief official visit to Brazil, with which China has trade ties worth 36 billion US dollars. On Saturday, the Chinese president was to fly on to Venezuela for a meeting with President Hugo Chavez, and on Sunday he visits Chile.