Bolivia organizes grassroots alternative to UN climate change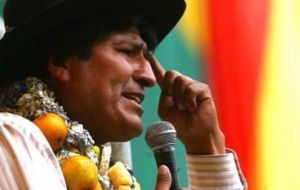 Delegates are gathering in the Bolivian city of Cochabamba for a grassroots alternative to last year's UN climate change summit in Copenhagen. The meeting will also celebrate the rights of Mother Earth on 22 April.
Bolivian President Evo Morales was one of several leaders who refused to sign the Copenhagen climate change deal. He is set to use this week's talks to propose a world referendum to ask up to two billion people their views on how to tackle climate change.
Several thousand people are expected in Cochabamba for what is billed as the People's World Conference on Climate Change and the Rights of Mother Earth.
According to Bolivian Foreign Affairs minister David Choquehuanca delegations from 129 countries, forty at government level have confirmed their participation. Among the presidents announced are Ecuador's Rafael Correa; Nicaragua's Daniel Ortega; Paraguay's Fernando Lugo and Venezuela's Hugo Chavez.
The meeting, which runs until Thursday, aims to bring together indigenous and civil society movements, scientists, activists and government delegations.
Mr Morales proposed the Cochabamba meeting in the wake of the climate change summit in Copenhagen last December, arguing that the views of developing countries were largely ignored.
The talks will have no direct bearing on the UN climate talks, but the idea is to give a voice to the world's poorest people - those most affected by climate change - and to make governments more aware of their plight.
"Our experience in the last process of negotiation over the last year and a half is that things are moving in a bad direction," Pablo Solon, Bolivia's ambassador to the UN, told the BBC.
"I would say this is the only scenario to make a balance between the pressures that at this moment the corporations are putting on the government versus the pressure that can emerge, can arise from civil society."
The Bolivian government wants the UN to set in motion moves to create an international environmental court.
Last year, the UN backed a proposal by Morales to designate 22 April as International Mother Earth Day to celebrate the Andean divinity Pachamama, or Mother Earth.