Chile surveying glaciers to gauge extent of climate change impact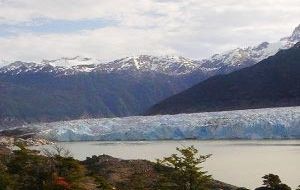 Academics from around the world are taking an interest in Chile's glaciers. A team of Canadian, French and Chilean experts have been working in Punta Negra, located in the Laguna Negra section of Cajon de Maipo (south of Santiago) since 2003, following both covered glaciers and those known as rock glaciers.
These two types of glaciers are of particular interest because they are not so easily found — covered glaciers exist hidden under a fine layer of stone, whereas rock glaciers can be found lying at a depth of to five meters.
Led by German geologist Alexander Brenning, the scientists have given special attention to the impact climate change has had on these glaciers. They discovered that while rock glaciers show significant stability against climate change (which was evident in comparisons of aerial photos and digital models of the sector which were taken in 1955 and 1996) there is evidence that covered glaciers are much more affected by the rise in temperature.
"A strong degradation as well as the increase of depressions has been noted due to the fusion of ice," Brenning said.
Chile's Direccion General de Aguas del Ministro de Obras Publicas (the country's water authority, also known as the DGA) is also taking a special interest in the country's glaciers.
DGA has focused in particular on the glacier known as Echaurren, located west of Santiago in the Cajon de Maipo. The DGA has documented a large reduction in its volume, due to climatic variations which have taken place in the area. DGA determined that the glacier has shrunk 7.9 meters between 1974 and 2009. Each year the glacier has melted approximately 23cms, which explains the total of 7.9 meters over this time frame.
The DGA has also been monitoring other Chilean glaciers with the help of GPS and stations which facilitate investigation in various locations. By the end of 2010 DGA will have completed an inventory of 95% of the known glaciers in the country, indicating the position, volume of ice and state of each glacier.
Some 3,700 glaciers are estimated to exist in Chile, or about 80% of South America's total. The DGA has approved a 52 million USD budget for the study, in order to document the glaciers of Chile and the changes through which they go through in the face of climatic phenomenon such as El Niño, La Niña, and global warming.
By Alia Alhafny - Santiago Times