Chilean president to sell holding in television network: 160 million USD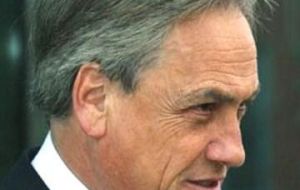 Chilean billionaire-businessman-turned-president Sebastian Piñera is in the process of selling Chilevisión, the third most watched television network in the country.
The country's Interior Minister Rodrigo Hinzpeter confirmed Monday that the sale process has begun, saying, "This is not simple, but it will get done." Piñera currently owns 100% of the TV station. The buyer has not yet been confirmed, but the price has been set at 160 million USD. Three potential buyers reportedly include conglomerations from Mexico, Spain, and Argentina.
Piñera promised to sell his TV station during last year's presidential campaign, if elected, but since winning office has appeared to have regretted his promise. After his election he indicated his wish to put control of the TV station into the hands of a foundation – which he would control.
But pressure to sell Chilevisión increased last week after Piñera named a new CEO to the state-owned television station TVN, the most watched television network in the country, and a direct competitor to Chilevisión. Politicians from both the left and the right criticized the obvious conflict of interest.
This is not the first time that Piñera has been criticized about the boundaries between politics and business, an issue that got lots of attention in the presidential campaign. During the campaign, he promised to sell all of his 26.3% control in Latin America's largest airline company, LAN, if elected.
The last shares were finally sold on March 25, after a delay attributed to the recent earthquake. The total value of the sale was just under 1.5 billion USD.
But the criticism continued after the LAN sale, with politicians from the left suggesting that the delay in LAN's sale saved Piñera a considerable amount of taxes.
Piñera has taken other steps to mark distance from his business interests. In addition to the recent sales of LAN and Chilevisión, he signed a blind trust contract, placing his investments under the control of third parties. He has also stepped down from a number of corporate board positions.
Piñera currently retains 13% of the shares in the major national football (soccer) club Colo-Colo, but has announced no intention to sell.
By Benjamin Schneider - Santiago Times