Colombian presidential candidate accuses Chavez of interference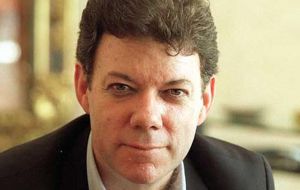 Colombia's leading presidential candidate Juan Manuel Santos claimed that Venezuela's Hugo Chavez is intent in interfering in his country's electoral process that next May 30 will decide on the successor of President Alvaro Uribe.
"I think the Colombian people don't like the interference of President Chavez in our national elections", said the former Defence minister who is leading in public opinion vote intention polls.
Santos considered as a "flagrant interference" Monday's criticisms from President Chavez who described the Colombian presidential hopeful as a "threat" to Venezuela.
Santos is "a threat for Venezuela and other neighbouring countries since he ordered (together with Uribe) the bombing of a Colombian guerrillas FARC encampment in Ecuadorian territory" claimed Chavez in reference to the Colombian army incursion and bombing two years ago that killed FARC's number two and heir of the Marxist oriented drug funded armed group.
FARC's number two Luis Edgar Devia, also known as Raul Reyes together with 25 other guerrillas were killed and valuable information and laptops captured by Colombian commandos acting in Ecuador.
Ecuadorian president Rafael Correa described the action as an "intolerable aggression" and immediately broke relations with Colombia.
Last Sunday in Bogotá during a televised debate with other presidential candidates Santos who was Defence minister when the incursion said he felt "proud of having defended the security" of many Colombians with the operation that signalled a turning point in the decades long war with guerrillas.