Chilean Navy incorporates largest vessel ever: a 42.000 tons logistics supply unit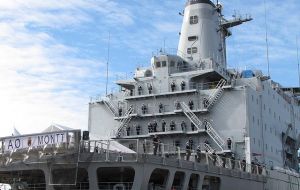 The Chilean Navy incorporated this week its largest unit, a 42.000 tons tanker, AO-52 "Almirante Montt" which will play a vital role in supplying the surface fleet. The tanker was purchased from the US Navy and will replace AO-53 "Araucano" decommissioned after forty years service.
The official ceremony with Defence Minister Jaime Ravinet and Commander of the Navy Admiral Edmundo González Robles and other top officials took place on the same 206 metres long vessel anchored at Valparaiso Bay.
Launched in 1987, the tanker saw action during the first Gulf War next to US air carriers and is equipped to deliver to men-o-war in high seas fuel, oil, water and other supplies. Its 20 million litres capacity can provide fuel to 50 frigates and even a medium sized city.
Before arriving in Chile AO-52 Almirante Montt was refurbished in Mobile, Louisiana with the whole incorporation operation (purchase plus re-conditioning) totalling 30 million US dollars.
Minister Ravinet congratulated the officers and crew members who spent six months in Mobile preparing the vessel for its incorporation to the Chilean Navy.
"We know it was a tough time being away from home so long and on your own in such difficult circumstances and later knowing the country was suffering from an earthquake and tsunami", said Minister Ravinet. But the incorporation of this vessel is of "strategic logistics relevance for Chile".
The former T-AO Andrew Higgins a Henry Kaiser logistics support vessel from the US Navy was mothballed since 1996 in Suisun Bay, San Francisco. In May 2009 a Letter of Offer and Acceptance was signed opening the way for its incorporation to the Chilean Navy.
Last February 10 in Mobile the commissioning and flag ceremony took place and on March 29, AO-52 Almirante Montt sailed for Chile arriving April 16.
With its 42.000 tons the newly incorporated tanker becomes the largest vessel ever of the Chilean Navy, surpassing the 32.960 tons battleship Almirante Latorre which was on duty from 1920 to 1958.