One meter giant deep-sea crab caught off the Isles of Scilly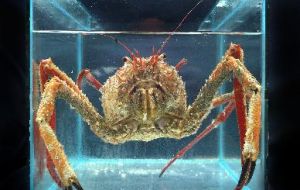 A giant deep-sea crab has been caught in a fisherman's nets off the Isles of Scilly. The one meter box crab, which has been named Spud, has a missing claw and is being cared for at Newquay's Blue Reef Aquarium. The species can grow up to 2m and is normally found at depths of 2.3km.
The largest box crab measuring about 1.2m was found five years ago by a fisherman from Padstow. Spud was pulled up from a depth of 110 meters by skipper Matthew Keast, who was fishing for turbot.
Aquarium manager David Waines said the crab could have been the biggest ever caught if its second claw was still intact. "He was in a boat for three days and we don't want to man-handle him too much by getting out tape measures," he said.
"This one probably strolled into shallow water at some point and the fisherman may not have realised what he had caught. It is an astonishing find."
Staff are trying to feed him on a diet of rotten starfish and said his lost claw could even grow back. The aquarium believes the crab is only the eighth of its kind brought up in the UK since 1900.
Due to the great depths at which they live, relatively little is known about giant box crabs. It is believed they prefer warmer water, such as those off Morocco, are scavengers and live mainly off dead fish found on the seabed.
The aquarium said it hoped to put Spud on display at some point.