China interested in krill fisheries to cut foreign dependence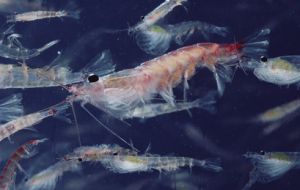 China has sent its ocean-going fishing vessels Kai li and An Xin Hai to the Antarctic for the 2010 krill fishing season. During a 23 day exploratory fishing they caught 2.000 tons of krill, with a daily output of 100 tons, three times than originally expected.
China has been participating in Antarctic expeditions and scientific research for numerous years and has even established three Antarctic stations: Changcheng, Zhongshan and Kunlun. However, this is first time the country has sent fishing vessels to catch Antarctic krill, reports World Fishing.
In September 2009, China launched a five-year scientific research project called Development and Utilization of Antarctic Marine Living Resources, established by Secretary for the Bureau of Fisheries Li Jianhua. It entails expanding research and development of fishing and processing technology and regulatory and business training.
The project, whose team leader is Chen Xuezhong, is being run by the East China Sea Fisheries Research Institute (ECSFRI) and some domestic fishing firms.
The project is scheduled to research the Southern Ocean and conduct exploratory fishing during the first three years. For the subsequent two years, it will focus on commercial development.
In Antarctica, China has already explored 88 survey sites with eight experts who conducted their experiments on board. They examined temperatures, krill distribution and plankton concentrations, among other factors. An imperative issue being researched is the protection of Antarctic krill stocks.
China is heavily dependent on imported fish meal for its farming and aquaculture industries and is interested in developing its own resources. Krill and its by-products are used in the food, bio-pharmaceutical, agriculture and environmental protection sectors.
FIS/Xinhua