Forced by pickets Peru suspends 90 days controversial mining project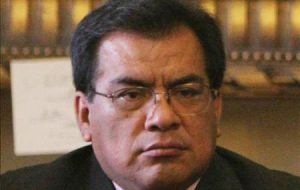 Protesters in the southern Peruvian province of Islay ended their six-day general strike after the government agreed to temporarily suspend a controversial mining project.
After several hours of negotiations in the town of Cocachacra, about 1,000 kilometres south of Lima, an accord was reached that includes the suspension for at least 90 days of the Southern Copper Corporation's 949 million US dollars Tía María Project.
The project was halted so that an environmental-impact study can be performed by an expert commission whose members will include both representatives of the company and the local inhabitants.
The Peruvian government also agreed to build a dam in the region to guarantee an adequate supply of water for local farmers.
The residents of Islay, a province in the southern region of Arequipa, launched their general strike last weed by occupying a stretch of the Panamericana highway, one of the country's most important roads.
The protesters, who on Tuesday agreed to talks with the government, were demanding the cancellation of the Tia Maria project, which is expected to produce around 120,000 tons of copper per year; an end to existing mining operations in the region and the construction of the dam.
After the accord was reached, Prime Minister Javier Velásquez, who presided over the talks, hailed the fact that a solution to the strike was found through dialogue.
"The government has made every effort to ensure peace is restored; with the technical roundtable there will be space to conduct a successful dialogue and reach definitive accords," he told reporters.
For his part, Interior Minister Octavio Salazar, who also travelled Wednesday morning to Cocachacra to take part in the talks, announced that the police who had been sent to that part of the country to clear the highway will be sent back to their home regions on Thursday.
Meanwhile, the president of the Arequipa region, Juan Manuel Guillén, who served as mediator between the central government and the protesters, said Wednesday's accord ensures that the mining project will not proceed without the approval of local residents.
Southern Copper Corporation has extracted copper from the Toquepala mine in the Tacna region since 1960 and the Cuajone mine in the neighboring Moquegua region since 1976.