Argentine Industrial Production Up 10.65 in March Over a Year Ago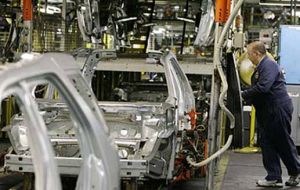 Argentine industrial output surprised market expectations in March, powered by an increase in auto production, the latest sign of a strong rebound in Latin America's number three economy.
Industrial output grew 10.6% during the month compared with March 2009, Argentina's national statistics office INDEC said on Friday. The March figure confirmed a number given earlier this week by President Cristina Fernandez de Kirchner.
Argentine auto production rose 26.6% in March versus the same month last year, and non-metallic mineral output climbed 10.3%.
The trade surplus shrank to 311 million in March, down from 1.37 billion a year ago. Exports rose 11% to 4.71 billion USD during the month, boosted by vehicle sales, while imports jumped 52% to 4.4 billion USD.
Argentina is a leading global agricultural exporter and ranks as the world's No. 3 soy exporter and the top world supplier of soy-oil and meal.
INDEC said grain exports in March were hurt significantly by a strike by port workers that slowed shipments abroad. Last month, Argentine port workers blocked shipments at one of Argentina's main grains ports for more than a week, demanding a salary increase.