Chile/Argentina Agree on Military Cooperation and a Joint Force for UN Peace Tasks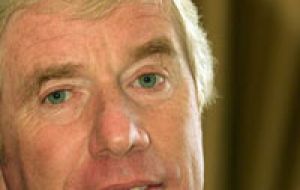 Chile and Argentina agreed Friday an ample cooperation in military issues including the design and manufacturing of a joint aircraft for their respective air forces and the training of a rapid deployment force in support of United Nations peace missions.
Chilean Defence Minister Jaime Ravinet visited his Argentine counterpart Nilda Garré to formalize the cooperation agreements that will begin with the creation of a joint commission for industrial cooperation between Chile's National Aeronautics Enterprise, ENAER, and Argentina National Airplanes Factory, FAA to manufacture a basic training aircraft to be flown by Air Force pilots from both countries.
A second understanding was reached regarding ship yards: Argentina's government-owned yard Tandanor will work to service Chilean Navy's yards, Asmar, clients that—because of the damages suffered during the February 27 earthquake—have been forced to join a long waiting list.
Chile's yards particularly those in Talcahuano suffered extensive damage during the tremors.
"It was also decided that together with Argentina we will cooperate in the recovery of the Chilean ship yards", said minister Ravinet.
Finally both countries reiterated their commitment to the recruiting and training of a combined joint peace force, Southern Cross, which is to be ready for deployment towards the end of the year.
The one thousand strong rapid deployment force will be ready in support of United Nations peace missions and of humanitarian tasks in Latinamerica.