US Credit Agencies Influenced by Banks that Paid Their Fees, Says US Senate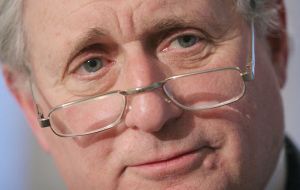 The behaviour of two credit rating agencies in the run-up to the financial crisis has been criticised by US senators following an investigation.
The Senate committee said Standard & Poor's instilled "unwarranted high confidence" in certain risky financial products. It also said that they were influenced by the banks that paid their fees.
The committee will hear testimony from current and ex-officials of Standard & Poor's and Moody's later on Friday. The Permanent Subcommittee on Investigations committee said the agencies must share some of the blame for the severity of the financial crisis. It also said firms let their drive for profits affect the ratings they issued.
The panel's chairman, Democrat senator Carl Levin, said the agencies had let banks "sell high-risk securities in bottles with low-risk labels". Senator Levin said once the crisis emerged rating agencies had failed to acknowledge the problems fast enough.
That, he said, led to mass downgrades of billions in investments, rocking the financial system and triggering the crisis.
"By first instilling unwarranted confidence in high risk securities and then failing to downgrade them in a responsible manner, the credit rating agencies share blame for the massive economic damage that followed," said Mr Levin.